International Moving
The KK Removal company offers you comprehensive service, supported by many years of experience; experience that after many years of work guarantees the highest level of services. If you are moving overseas, and you are moving your home internationally, then speak to us. We have been helping professionals and families move to new homes all around the world and are certified with the international moving industries leading professional bodies. Let us help you prepare for a smooth stress-free and successful move. Whether you are moving from England to Ireland or anywhere in Europe, we accompany you from departure to arrival. As a dynamic company, KK Removal always strives to deliver innovative solutions to all kind of organisations and businesses.
We can assist with small moves to a full house, office, school removal to any European country. We can arrange collection from anywhere in the UK and Europe. We offer a professional, planned and economical moving service to meet all your requirements and for every budget.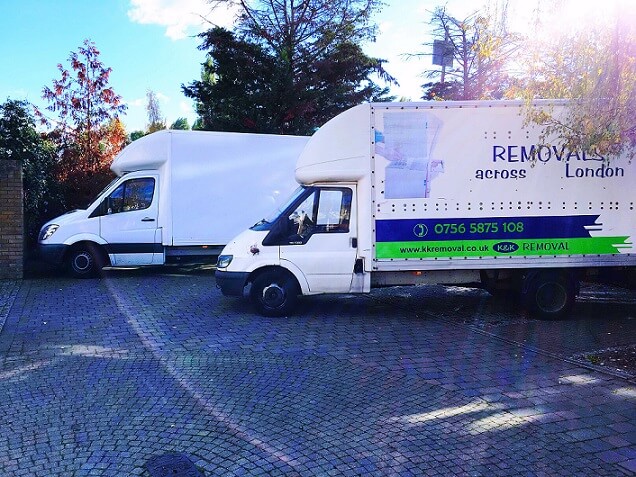 What factors affect the price of an international removal?
miles travelled
motorway costs (if any)
ferries (if any)
time of loading and unloading of things and the scope of additional work
payment for employees
possible accommodation.
Due to the long distances and complexity of the entire process, removals of this type require extensive knowledge and experience from the transport company. This is primarily about the following reasons: the ability to match the vehicle, estimate the duration of the service, and, above all, schedule travel time. This is especially true if the property is transported with furniture vehicles with a total weight exceeding 3.5T, because the AETR contract is used for such. It deals with driver's work and driving time, regular pauses and rests. This is related to the selection of the right route, possible stops and beds. Incorrect application of these provisions is associated with very high fines for the carrier, and often also the inability to continue the journey. And because the carrier and the client are "connected vessels", the client may be in extreme cases exposed to loss of valuable time and additional costs due to the lack of knowledge or negligence of the carrier.
International moving require proper loading and securing of any type of your belongings. Our experienced team knows how to efficiently and safely move and arrange furniture in the vehicle to fit as much as possible without leaving any spare space. Each of our car is equipped with a set of many specialized removal blankets, thanks to which you can – without any additional costs – secure your furniture and all stuff and, on the other hand, have special fasteners that protect furniture from slipping.
More demanding clients can commission a packaging service for our company. If this service concerns international removals, the working team usually arrives the day before the date of loading and prepares the items for transport. The main point is to pack glass objects, books, clothing and everyday items. Our staff also secure furniture, paintings, lamps and chandeliers as well as RTV-household appliances. There are other ways to pack plates, others to pack glasses, and some to secure the chandelier. Packing a 3-room apartment usually takes 2-3 days for our clients, while a 3 or 4-person team from our company will usually pack things in one working day.
Our company is able to provide you with all the accessories necessary to prepare the move. Cartons and other accessories by prior arrangement, can be delivered to the address indicated. Here are the materials we have:
moving cartons,
adhesive tape,
bubble wrap,
wrapping paper,
stretch film.
For any other information give our Man and Van company a call and we will give you any advice you need.