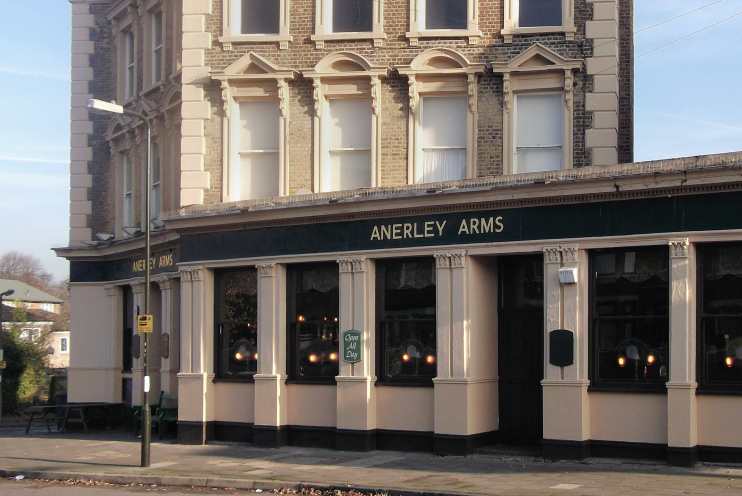 Anerley is located in south-east London within the London Borough of Bromley. This quiet neighbourhood offers beautiful and affordable Victorian homes and plenty of green spaces to explore, making it a great place for raising a family. There are also great transport links in this area that will let you travel freely to London. The area is ethnically diverse, with a big part of the community being of the Black race. Overall, Anerley is a welcoming and peaceful neighbourhood.
Anerley Travel
If you want to get to Anerley, there are a few options available, since the public transport has great links to the nearby areas. The first option would be taking the London Overground. Anerley has its own station which is located on Anerley Station Road, right by the Town Hall. You can also get off at Crystal Palace station and explore Anerley Hill on foot.
Another option would be taking a train. The Anerley station is located in the same place as the overground. Penge West and Crystal Palace are also very close to this neighbourhood. Anerley has great links to Islington, West Croydon, and central London.
If you want to take a bus to get to the area, you can choose the following routes: 157, 249, 354, 358, 432, and N3 as the night bus. Anerley is located in Zone 4.
Anerley on a Map
Anerley is located within the London Borough of Bromley, nearby Crystal Palace. It is only about 8 miles south of London Bridge. It is about 7 miles southeast of Charing Cross. If you are looking at a map, Anerley is located on the southern edge of London.
Who Lives in Anerley?
Anerley has a population of over 21,00, residents, with the average age being 32 years old. There are plenty of families living in the area due to the nearby schools and peaceful atmosphere. Anerley has a slightly high percentage of children. The number of one-person households in this area is also significant.
Anerley is also ethnically diverse, with a big part of the community being of the Black race. There is also a small percentage of Asian residents. Overall, this neighbourhood is a diverse and young community that is happy to welcome new residents.
Renting and Housing in Anerley
Anerley offers a range of beautiful Victorian houses, that can meet anyone's needs. The spacious homes in this area are a perfect spot for a bigger family or a small household that wants some private space. Last year, the average price of property reached £373,550.
Anerley also has a lot to offer to one-person households and young couples. There is a range of affordable flats to choose from. The low price paired with good transport links and quiet area makes Anerley a very attractive area.
Anerley Schools
Penge Community Pre-school, Anerley Methodist Church, Oakfield Road, London SE20 8QA
Crystal Early Years Centre, The Schoolkeepers House, Anerley Road, Anerley, London SE20 8BD
James Dixon Primary School, William Booth Road, Anerley, London SE20 8BW
Ladybird Nursery, 45 Anerley Park, London SE20 8NQ
St Anthony's Catholic Primary School, Genoa Road, London SE20 8ES
Blue Pear Day Nursery Anerley, 9A Stembridge Road, London SE20 7UE
Things to do and Local Amenities in Anerley
There are not many amenities in Anerley and the area also lacks nightlife. However, the several green spaces and parks make up for it. Here are some of the best local amenities in Anerley:
South Norwood Lake & Grounds
This large park with a lake is a perfect spot for a family outing. You can rent a boat to sail around the lake or go fishing. There are designated spots where you can play basketball, cricket, and bowling. There is also a playground in the park, making it a family-friendly spot. The South Norwood Lake & Grounds is a beautiful area, where you can spend some time relaxing among nature.
Woodvale Ave, London SE25 4AN
Crystal Palace Dinosaur Park
The Crystal Palace Dinosaurs were built in the 1850s as a local amusement attraction. Since then, this park has been attracting families to see the life-sized reptiles. The Crystal Palace Dinosaur Park is located within the Crystal Palace Park, which is also worth visiting due to its breathtaking landscapes and plenty to do. While walking through the dinosaur paths, you can also stop at Brown & Green Life to grab a drink with something to eat. Overall, Crystal Palace Dinosaur Park is a perfect family spot.
7 Ledrington Rd, London SE19 2GA
St Hugh's Community Centre
The St Hugh's Community Centre is located in the heart of the area, only a few minutes from the overground station. This centre is a perfect spot if you or your child want to pick up a new skill or activity. It offers a wide range of free classes, such as yoga classes, Bible studies, and even special classes for the elderly. There are also different private classes, which take place at the centre.
42 Castledine Rd, London SE20 8PL
What is Anerley Like to Live in?
With the family-friendly atmosphere and plenty of greenery, Anerley is a great spot for families, that want to live right outside of central London. This area offers great transport links to London, which makes up for the lack of nightlife. This neighbourhood is fairly quiet but it is worth mentioning that the crime rate in this area is higher than the London average.
Move to Anerley with KKRemoval!
Looking for a great place to live that won't break the bank? Then you should definitely consider moving to Anerley! This lovely area offers affordable homes, plenty of green spaces, and excellent transport links to central London.
With KKRemoval by your side, the whole moving process will be stress-free. We'll take care of everything from packing up your belongings to transport and delivery. So what are you waiting for? Contact us today and let us help you make the move to Arnos Grove.