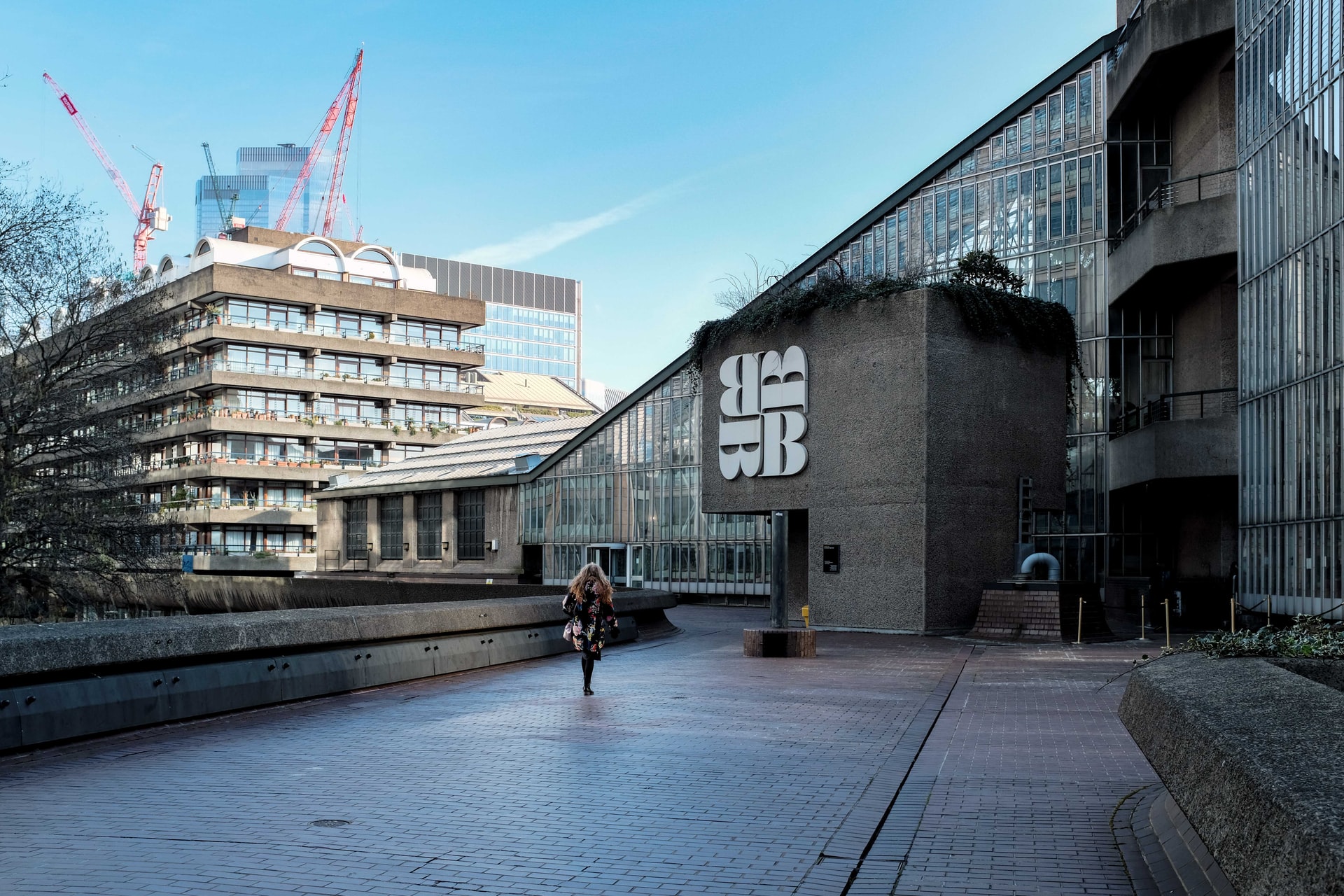 Barbican is an area located in the City of London in central London. This area was once destroyed by the World War II bombings and on September 19th of 1957, the Court of Common Council authorized the creation of new residential properties. Since then, this stylish estate has been developing significantly. The area is now known for its unique brutalist architecture mixed with many green spaces. The Barbican Complex is a vision of utopian living, with terrace blocks, raw concrete, and lots of greenery.
Barbican is home to many cultures because it is tightly connected to arts. The Barbican Centre is the largest art centre of its kind in Europe. This area is also one of London's most popular places to live, which is not a surprise considering how peaceful it is. Most of the residents are business professionals, but that does not make Barbican a bad choice for families or young adults. Overall, this stylish area with many green spaces has something to offer to everyone.
Barbican Travel
If you want to get to the Barbican, there are a few options available. If you want to explore the area at your own pace, you can get to the neighbourhood on foot. The Barbican area is located only about 30 minutes away from central London, which makes it a perfect walking distance.
Another option is taking a train or tube. The closest train stations to Barbican are Liverpool Street and Farringdon, it won't take you longer than 10 minutes to get to the area from both stations. Barbican also has its own tube station, which is located around 4 minutes away from the neighbourhood.
Taking a bus is also an option. You can choose the bus route 153 which gets directly into Barbican. Bus Routes 56 and 4 will also get you to the area since they both serve the Barbican tube station. The area is located in Zone 1.
Barbican on a Map
Barbican, an area in the City of London, is located a little over 2 miles north of Central London. The neighbourhood is less than a mile south of the iconic St. Paul's Cathedral, and less than a mile northeast of the Tower of London. If you are looking at a map, Barbican is located right above the City of London, almost in the heart of the city.
Who lives in Barbican?
Barbican has a population of over 4,000 residents living in over 2,000 flats. The area is mostly populated by one-person households with most residents being over 35 years old. Many of the flats in Barbican Estate are on the smaller side, so not many bigger families live in this area.
Barbican is not very diverse, with over 85% of the residents being of the White race. However, there is a small percentage of Asian residents, who are mostly Indian and Chinese. Overall, the population in the area is not very diverse and it is popular mostly among older residents.
Renting and Housing in Barbican
There is an urban myth that claims Barbican was built as social housing. However, this statement is not true. The Barbican Complex was built by The City of London Corporation as rental housing, simply for profit. The estate contains three of London's tallest residential towers: Cromwell Tower, Shakespeare Tower, and Lauderdale Tower.
The Barbican area is one of the most popular to live in. Many people choose this neighbourhood because of its safety and tranquility. The area has many stylish flats and studio apartments to offer, perfect for a couple or a one-person household. Barbican has some of the most expensive housing in London, but many people are still willing to trade their country homes for a small apartment in this popular area.
The average price of rent in the area ranges from £325 to £1,269 weekly. Over the last year, Barbican's properties had an average price of over £967,976.
If you are looking for more space, Barbican might not be a good choice for you. The area does not have many options for bigger families and people who are looking for a larger home. However, it has plenty to offer to people in search of a stylish flat.
Barbican Schools
City of London School for Girls, Barbican, St Giles Terrace, Wood St, London EC2Y 8BB
Newpark Childcare Centre, 1 St Giles Terrace, Barbican, London EC2Y 8DU
London Symphony Chorus Music School, Barbican Centre, Silk St, Barbican, London EC2Y 8DS
Charterhouse Square School & Nursery, 40 Charterhouse Square, Barbican, London EC1M 6EA
Bright Horizons City Child Nursery and Preschool, 1 Bridgewater Square, Barbican, London EC2Y 8AH
Things to do in Barbican
The Barbican area is full of life and it has something to offer everyone. Whether you want to see a great performance or grab a quick bite at a local restaurant, Barbican will surely meet your needs. Here are some of the best local amenities:
Barbican Centre
This performing arts centre has plenty to offer to its residents and tourists from around the world. You can experience amazing classical and contemporary music concerts, art exhibitions, theatre performances, and movie screenings. The Barbican Complex is home to two theatres, two art galleries, three cinemas, and a concert hall. You can also visit the large library or see the beautiful conservatory that is full of tropical wildlife.
In addition, there are three great restaurants right in the Barbican Complex, so you can enjoy a meal without leaving the area. The centre also has plenty of shops with books, gifts, and souvenirs. The Lakeside Terrace is worth mentioning as well, considering its unique style. It is a perfect place to have a coffee in the heart of the Barbican.
Silk St, Barbican, London EC2Y 8DS
Nuffield Health Barbican Fitness & Wellbeing Centre
The Nuffield Health Barbican Fitness & Wellbeing Centre is located on the opposite side of the road from the tube station on the northern edge of Barbican. This facility offers a range of different activities including a pool, sauna, personal training, and even physiotherapy. There are also many different classes you can attend every single day. You can try things such as yoga, pilates, Skill Edge, or NuCycle Rhythm.
97 Aldersgate St, Barbican, London EC1A 4JP
Beech Gardens
This beautiful garden is a perfect place for a morning run or late-night walk. The mix of different plants ensures the garden stays colourful and pleasant to the eye even in Autumn. This quiet park is good for the soul and will leave you feeling calm and refreshed. Visiting Beech Gardens will let you relax away from the noise of the city.
Beech St, Barbican, London EC2Y 8NJ
Piano Smithfield
This live music venue is perfect for an evening party and a few drinks at the bar. Live piano music is played every night and there are also other concerts and live events organized at Piano Smithfield. The bar offers a wide range of drinks and beverages, as well as fresh pizza that is locally baked and delivered. If you are looking for a relaxing night at an atmospheric bar, Piano Smithfield is a perfect choice for you.
14 Long Ln, Barbican, London EC1A 9PN
Stem & Glory London Barts
This lovely vegan restaurant is a great choice even for those who can't live without meat. The restaurant offers a range of delicious vegan meals, all served beautifully. The staff is knowledgeable and eager to help you choose a perfect meal. Stem & Glory also offers great cocktails, which will complement any dish.
60 Bartholomew Cl, Barbican, London EC1A 7BF
Museum of London
This free museum is a great destination for anybody interested in the history of England and its capital city. There are permanent exhibitions about different periods, that explain how life looked in London at those times, as well as temporary ones. Children can engage in many activities prepared for them by the museum staff.
150 London Wall, Barbican, London EC2Y 5HN
What is Barbican Like to Live in?
With the unique architecture and beautiful greenery, Barbican is sure to impress a lot of people. Unfortunately, this area belongs to one of the most expensive in London and does not offer a lot to bigger families. However, Barbican is worth the price because of its tranquility and brutalist architecture like nowhere else in London.
The area also does not offer many parking spaces, so being a car owner can get frustrating. There is little to no noise outside, besides the sound of the fountains and the strong residents association makes sure there is no noise pollution.
Barbican is considered one of the safest and most peaceful areas in London. The crime rate in this area is very low and the most common crimes are anti-social behaviour, violence, and theft. Overall, Barbican is a safe area that offers beautiful architecture and plenty of entertainment.
Move to Barbican with KKRemoval!
Barbican is a unique area of London that is known for its safety and brutalist buildings. The quiet apartment buildings have a lot to offer to smaller families. The area is also home to many small businesses, which means that there are plenty of opportunities for residents to find employment.
In addition, the Barbican Centre offers a range of cultural and educational facilities, making it an ideal place to live for those who are interested in the arts. As a result, it is no surprise that moving to Barbican is becoming an increasingly popular option for Londoners.
Plus, with KKRemoval, moving has never been easier. We'll take care of all the heavy lifting for you, so all you need to do is sit back and relax. So why wait? Contact us today and let us help you make your move to Barbican.