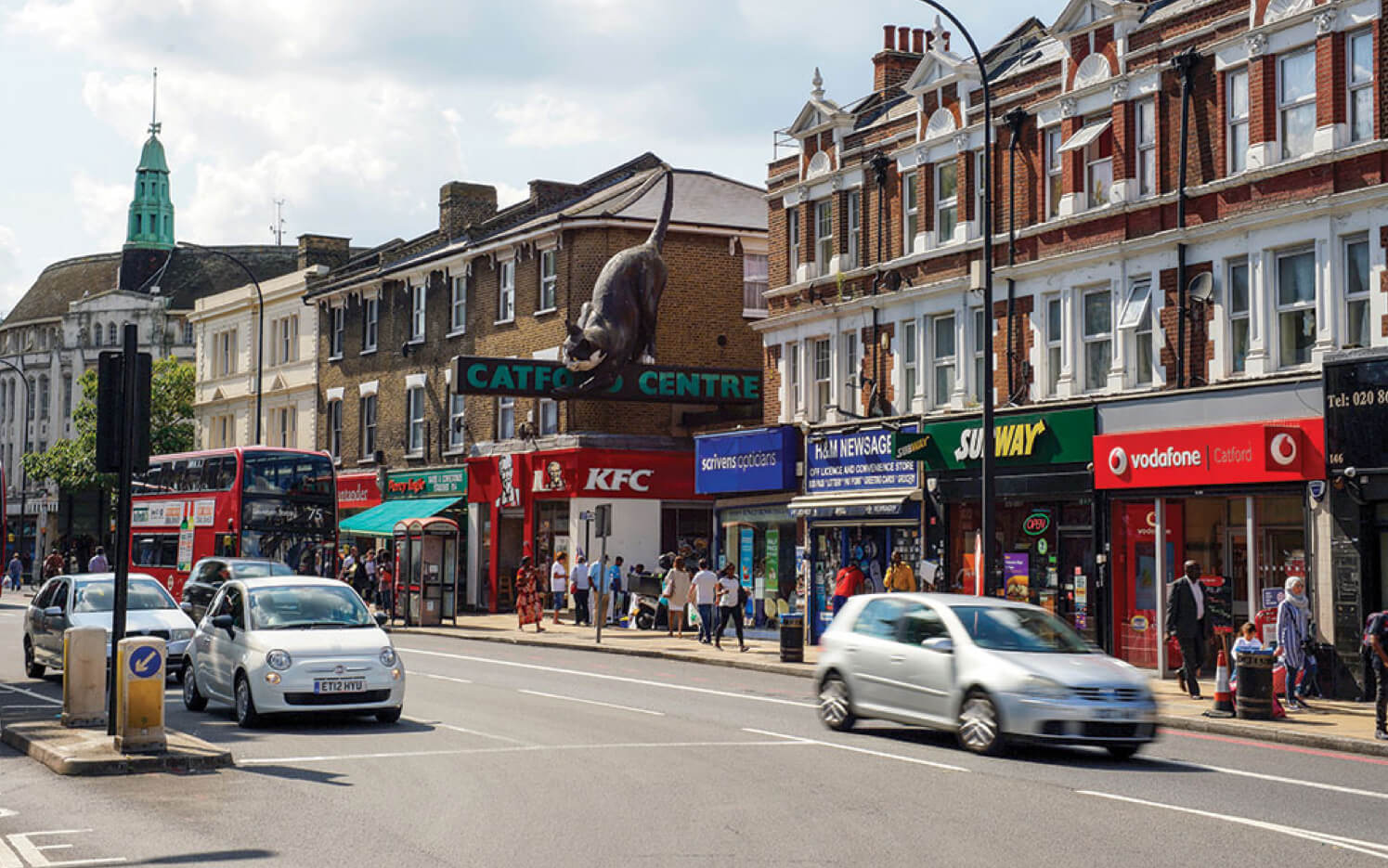 A hidden gem in South East London, living in Catford is an up-and-coming experience that offers a perfect blend of affordability, community spirit, and an abundance of amenities. If you're seeking a vibrant, diverse, and well-connected London neighbourhood, Catford might just be the place for you. In this blog post, we'll take you on a journey through a day in the life of a Catford resident and explore what makes living in Catford truly stand out.
Catford Travel
Residing in Catford offers an ideal solution for commuters due to its superb transport network. The area is served by two main train stations: Catford and Catford Bridge, both providing regular services to Central London, including direct routes to Charing Cross, St Pancras, Blackfriars, and Cannon Street. These stations are conveniently located in the heart of the town, making them easily accessible from any part of Catford.
In terms of bus services, Catford is well-covered with numerous routes leading to different parts of London. Key bus routes include the 185, 199, and 208, connecting Catford with Victoria, Canada Water, and Lewisham respectively.
For those who prefer cycling, there are several cycle routes crisscrossing the area, offering a healthy and eco-friendly alternative for commuting. As for drivers, the South Circular road runs right through Catford, providing easy access to other parts of London. Despite this, the car ownership rate in Catford remains relatively low, with approximately one car for every two households. Catford is situated in Travelcard Zone 3, making travel to and from the area both affordable and convenient.
Catford on a Map
Nestled in the heart of South East London, Catford is an affordable and up-and-coming area with a strong sense of community and access to green spaces. The history of Catford dates back to 1745, with the arrival of the railway and Catford Bridge station in 1857 playing a significant role in the area's growth and development. Its location, not far from the iconic London Bridge, adds to the appeal of this South East neighbourhood.
Lewisham Council is investing £500 million in a project to regenerate the town centre. New homes and a retail park will be built near Catford station. With a variety of cool places to explore nearby, such as Lewisham, Hither Green, and East Dulwich, you'll never run out of exciting things to do.
Catford offers a perfect mix of urban living and access to nature, thanks to its close proximity to Mountsfield Park and other green spaces, all within walking distance.
Who Lives in Catford?
Catford is home to a diverse population, including young professionals, families, and long-term residents. Its affordability and quick commutes into the City, including London Charing Cross, attract young professionals, while families have been appreciating the great schools, fabulous parks, and tight-knit community for ages.
Speaking of safety, Catford's crime rate is relatively low compared to other parts of London. The local authorities are proactive in maintaining safety and order, making it a secure place to live.
The community in Catford is incredibly friendly and active, with residents coming together to make the area a better place. They are very involved in local issues and work together to create a welcoming atmosphere for all who live in Catford. This sense of camaraderie and support, coupled with the area's safety, makes Catford a truly unique and special place to call home.
Renting and Housing in Catford
Renting and housing in Catford present a more budget-friendly alternative compared to other areas of London. Here, a diverse range of housing options are available to suit various tastes and budgets. These include period properties that echo the historical charm of London, new developments that offer modern comfort, and family-friendly homes that provide ample space for growing families.
Some of the most sought-after properties in Catford are the Edwardian homes located in the Culverley Road conservation area. These homes offer a glimpse into the rich history of London, with their classic Edwardian architecture and timeless appeal. On the other hand, the two 1930s housing estates, Bellingham and Downham, provide a different architectural vibe, showcasing the design trends of the era.
One of the key advantages of living in Catford is access to excellent schools, making it an ideal place for families with children. The area boasts a number of high-performing schools, providing quality education for children of all ages.
Catford Schools
Pavilion Nursery Catford Ltd, 1ST FLOOR, Catford Cricket & Sports Club, Penerley Rd, London SE6 2LQ
Rushey Green Nursery, 41 Rushey Grn, London SE6 4AS
Athelney Primary School, Athelney St, London SE6 3LD
Holy Cross Primary School, Culverley Rd, London SE6 2LD
St Augustine's Primary School, Dunfield Rd, London SE6 3RD
Holbeach Primary School, Nelgarde Rd, London SE6 4TP
Prendergast Ladywell School, Manwood Rd, London SE4 1SA
Things to do and Local Amenities in Catford
From entertainment to shopping, Catford offers a variety of local amenities and activities that cater to residents' diverse interests. In the following sections, we will delve into the Broadway Theatre, street markets, libraries, shopping centres, and parks. These are just a few of the many things that make Catford a vibrant and exciting place to live.
The Broadway Theatre, a popular destination for Catford locals and visitors alike, hosts a variety of performances and serves as a hub for independent cinema enthusiasts.
Catford Broadway Theatre
The Broadway Theatre, a Grade II listed building, is a cultural hub in Catford, hosting a range of events, including plays, musicals, and community events. The theatre's Art Deco design and 900-seat main theatre, along with an 80-seat studio theatre, make it a popular destination for a diverse audience.
Whether you're a fan of live performances or looking for a unique night out, the Broadway Theatre has something for everyone. With its rich history and continued commitment to providing quality entertainment, the Broadway Theatre is a must-visit destination.
Rushey Grn, London SE6 4RU, United Kingdom
Catford Street Market
Catford Street Market is a popular destination for locals, offering a variety of food, crafts, and entertainment options. The market showcases a great selection of produce, street food, and merchandise from different vendors, providing a unique shopping experience for residents and visitors alike.
In addition to the wide array of offerings, the lively atmosphere and friendly vendors make Catford Street Market a truly enjoyable experience. Don't miss out on this local gem – it's a great way to immerse yourself in the vibrant Catford community and support local businesses.
Adenmore Road Catford Bridge Train Station, London SE6 4FD, United Kingdom
Catford Library
Catford Library is an indispensable hub for the local community, offering a multitude of services and resources for people of all ages. It provides a quiet and comfortable study space for students and professionals alike. The library also ensures digital inclusivity by offering free access to PCs and WiFi.
The children's section is thoughtfully designed with a dedicated homework space, making it a favourite spot for young learners. The library is not just about books and study spaces; it hosts a variety of engaging activities and events that cater to a diverse range of interests, ensuring everyone has something to enjoy.
From book clubs that foster a love for literature to computer classes that boost digital literacy, Catford Library is committed to ensuring that residents have access to the information and resources they need. It plays a crucial role in fostering a sense of community and promoting lifelong learning. Whether you're on the hunt for a new book to delve into or seeking a serene space to work, make sure to take advantage of this fantastic local amenity.
Catford Centre, 23-24 Winslade Way, London SE6 4JU, United Kingdom
Mountsfield Park
Mountsfield Park, a popular green space in Catford, offers a wide array of recreational facilities, play areas, and stunning city views. The park is well-equipped with tennis and basketball courts, a skate park, and a lively playground. These facilities cater to residents of all ages, providing a variety of activities that add to the vibrancy of life in Catford.
In addition to its recreational offerings, Mountsfield Park is also known for its picturesque views. From the park, one can enjoy a panoramic view of the city skyline, the River Thames, and the London Eye. The park's expansive outdoor space and family-friendly atmosphere make it a cherished local amenity. Its presence significantly contributes to the overall appeal of living in Catford.
The Lodge, Stainton Rd, London SE6 1AN, United Kingdom
Catford Shopping Centre
The Catford Shopping Centre offers a unique blend of high street and independent shops, ensuring a convenient shopping experience for all residents. Among the stores you can find at the shopping centre are big names like Primark, Marks and Spencer, and Aldi, as well as a variety of independent shops. This mix of options means there's something for everyone at the Catford Shopping Centre.
The shopping centre caters to a wide array of needs and preferences, ensuring that residents have access to all the essentials without having to travel far. With its diverse range of shops and its convenient location, the Catford Shopping Centre is a must-visit destination for all your shopping needs.
134 Rushey Grn, London SE6 4HQ, United Kingdom
What is Catford Like to Live in?
Living in Catford offers a unique balance of affordability, community spirit, and access to amenities. Its excellent transport links make commuting to central London a breeze, while its up-and-coming status promises exciting developments in the near future. Furthermore, Catford's diverse population and welcoming community create a lively and engaging atmosphere for residents.
The abundance of local amenities, from the Broadway Theatre to Mountsfield Park, ensures that there's always something to do or explore in Catford. With its combination of affordability, community, and access to resources, Catford is an attractive option for those looking to move to London and experience all that this vibrant area has to offer.
Move to Catford with KKRemoval!
Considering a move to Catford? Let KKRemoval take the stress out of your relocation process. With expert knowledge of the local area and tailored moving services, KKRemoval can help make your transition to Catford smooth and stress-free.
From packing and unpacking to loading and unloading, KKRemoval offers comprehensive home and business relocation services to suit your needs. With their extensive knowledge of the local area, including the best routes to take and the most desirable places to live, KKRemoval is the perfect partner for your move to Catford.