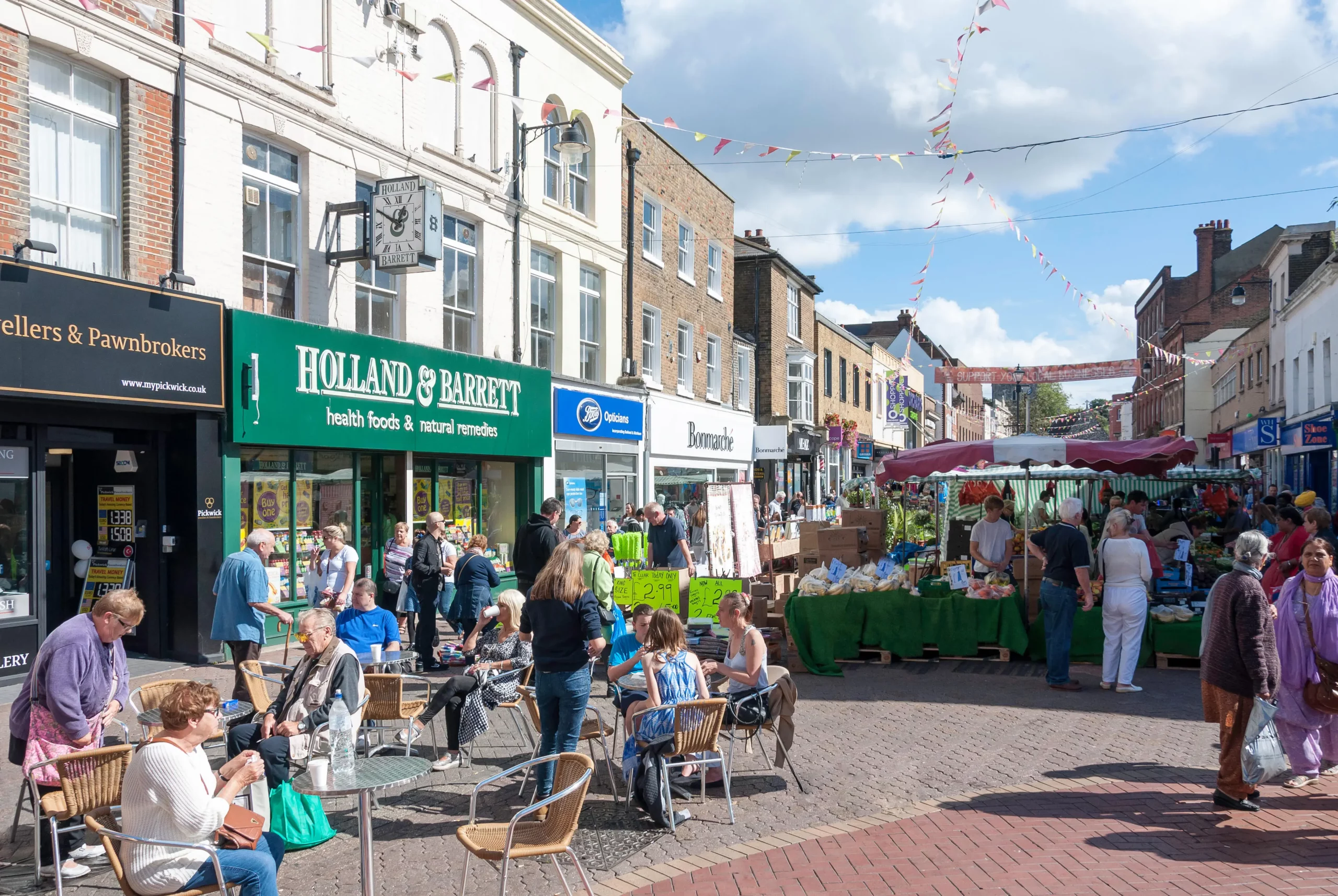 Nestled in the London Basin, Dartford serves as a bridge between the bustling life of central London and the serene landscapes of the Kent countryside. Historically significant, Dartford's roots trace back to its days as a vital market town, enriched with cultural and religious importance. The River Darent gracefully meanders through its heart, adding a touch of nature's charm to the urban setting.
Over the years, Dartford has evolved into a sought-after commuter town, seamlessly blending the conveniences of city life with the tranquillity of rural surroundings. Its strategic location southeast of central London, coupled with robust community links, makes it an attractive destination for a diverse populace.
Whether you're a family seeking quality education and a friendly neighbourhood, a professional looking for efficient commuting options, or someone wanting to experience the blend of history with modernity, Dartford beckons with open arms. As more people discover its allure, Dartford's reputation as a delightful place to live, work, and relax continues to grow.
Dartford Travel
Dartford, a key town in the London Borough of Dartford, is well-connected with a robust public transportation system, ensuring that residents and visitors can easily navigate the region and beyond. The town is not directly served by the London Underground, but its strategic location ensures that Central London and other parts of the city are easily accessible. Dartford's main transport hub is the Dartford Railway Station, which offers regular train services connecting to various parts of London and other regions.
For those who prefer bus travel, Dartford is well-serviced with a range of routes. Buses such as the A, FASTRACK AZ, B, DART 3, 497, 4, and DART 2 operate in the area, ensuring that residents and visitors have a plethora of options to choose from. Key bus stops in the vicinity include the District Centre, Joyce Green Lane Terminus, Marsh Street Roundabout, Temple Belle Tesco, and Hall Road. These stops are strategically located, making it convenient for passengers to access the bus services.
Additionally, for those travelling by car, Dartford's proximity to major roads and highways ensures easy access to the broader UK road network. Whether you're commuting to Central London, travelling to neighbouring towns, or exploring the Kent countryside, Dartford's transport infrastructure is designed to make your journey efficient and hassle-free.
Dartford on a Map
Dartford, a significant town in Kent, is strategically positioned in the southeast of England and serves as a gateway between the bustling metropolis of London and the picturesque Kent countryside. Located approximately 18 miles southeast of Central London, Dartford is easily accessible and offers a perfect blend of urban convenience and rural charm.
Its proximity to the River Darent, which flows through the town, adds to its geographical significance. When it comes to landmarks like London Bridge, Dartford is roughly a 40-minute drive away, making it a favourable location for those who wish to be near the capital but still enjoy the tranquillity of a smaller town setting.
The town's location in the London Basin further accentuates its importance as a hub that connects various parts of the region. Whether you're looking at a map or driving through, Dartford's unique position makes it a standout locale in the southeast of England.
Who Lives in Dartford?
Dartford, situated in the north-west of Kent, has witnessed a steady growth in its population over the years. As of the 2011 census, the borough had a population of 97,365. The majority of the residents, 87.3%, were born in England, which is slightly higher than the average for the South East. Interestingly, only 3.3% of the population were born in EU countries, with two-thirds of this migration being from the accession countries between 2001 and 2011. This proportion is higher than the national average.
The borough also has a slightly below-average elderly population, with 7.1% of its residents being above the age of 74 in 2011, a slight increase from 6.5% in 2001. In terms of housing, 12.6% of properties in Dartford are detached, which is less than the regional and national averages. The economic activity of its residents is also noteworthy, with those in full-time employment being 6.0% greater than the national average.
When it comes to safety, Dartford's crime rate is relatively moderate. The area has seen a range of criminal activities, but it's worth noting that the overall crime rate in Dartford is generally lower than the national average, making it a relatively safe place to live and work.
Renting and Housing in Dartford
This bustling commuter town offers a diverse housing landscape that caters to various preferences and budgets. Over the past year, the average house prices in Dartford stood at £387,976. The most common property type sold was terraced homes, which fetched an average price of £381,326. Those looking for a bit more space might consider the semi-detached properties, which had an average selling price of £447,577. For those seeking more urban living or perhaps a starter home, flats in Dartford were sold for an average of £236,132.
The housing market in Dartford has shown resilience and growth, with sold prices seeing a 5% increase from the previous year and a significant 19% rise from the 2020 peak price of £326,634. This upward trend indicates a robust demand and a thriving property market in the area.
Whether you're a first-time buyer, looking to invest, or seeking a family home, Dartford offers a range of options that can fit various needs. The architectural styles in Dartford are diverse, ranging from modern apartment complexes to traditional Victorian and Edwardian homes, ensuring that there's something for everyone.
Dartford Schools
Toybox Pre School, Wentworth Dr, Dartford DA1 3NG
The Winning Child Nursery, 32 Brent Way, Stone, Dartford DA2 6DA
Bright Horizons Wilmington Day Nursery and Preschool, Common Ln, Dartford DA2 7EU
Wentworth Primary School, Wentworth Dr, Dartford DA1 3NG
Westgate Primary School, Summerhill Rd, Dartford DA1 2LP
Dartford Grammar School for Girls, Shepherds Ln, Dartford DA1 2NT
Dartford Grammar School For Boys, West Hill, Dartford DA1 2HW
Temple Hill Primary Academy, St Edmunds Rd, Dartford DA1 5ND
The Gateway Primary Academy, Mile Stone Rd, Stone, Dartford DA2 6DW
Our Lady's Catholic Primary School, King Edward Ave, Dartford DA1 2HZ
Oakfield Primary Academy, Oakfield Ln, Dartford DA1 2SW
Local Amenities and Things to do in Dartford
Dartford, a town rich in history and culture, offers a plethora of activities and amenities that cater to a diverse range of interests. Whether you're a nature enthusiast, a theatre lover, or someone who enjoys a good meal, Dartford has something for everyone. Here are some of the top attractions and amenities that make Dartford a vibrant and lively place to live and visit:
The Orchard Theatre
Situated just a 3-minute walk from the town centre, the Orchard Theatre is a cultural hub in Dartford. Rated as the top activity out of 23 things to do in Dartford on TripAdvisor, this theatre hosts a variety of performances, from new theatre productions to music and comedy acts featuring both renowned and emerging artists. It's a perfect spot for an evening of entertainment.
Home Gardens, Dartford DA1 1ED, United Kingdom
Aqua Park Lakeside
For those who seek adventure and thrills, Aqua Park Lakeside is a must-visit. Located just 15 minutes by car from Dartford, this water park boasts over 30 giant inflatable obstacles, including slides, monkey bars, and trampolines. It promises a fun-filled day for families and adventure seekers alike.
Alexandra Lake South, Lakeside Shopping Centre, West Thurrock, Grays RM20 2AB, United Kingdom
Chafford Gorges Nature Park
If you're looking for a serene escape, Chafford Gorges Nature Park offers 200 acres of lush green space, perfect for picnics, wildlife spotting, and leisurely walks. Located just 20 minutes from Dartford, the park also features reptiles and a visitor centre, making it a versatile destination for both relaxation and learning.
Drake Rd, Chafford Hundred, Grays RM16 6YH, United Kingdom
Cadiz Tapas Restaurant & Cocktail Bar
For a gastronomic treat, head to Cadiz, a restaurant that offers authentic Spanish tapas complemented by a range of exquisite cocktails. Set in a cosy and beautiful ambiance, Cadiz promises a culinary journey to Spain, making it a favourite among locals and visitors.
70 Spital St, Dartford DA1 2DT, United Kingdom
Shopping in Dartford
Dartford boasts a range of shopping options. The Orchard and The Priory are local shopping centres offering a variety of retail outlets. For those seeking a more extensive shopping experience, Bluewater Shopping Centre, located a short drive away, houses over 330 shops, numerous bars, and restaurants. It's the perfect destination for a day of retail therapy.
Bluewater Pkwy, Dartford, Greenhithe DA9 9ST, United Kingdom
What is Dartford Like to Live in?
Dartford offers a harmonious blend of urban conveniences and scenic beauty. As a gateway between London and the Garden of England, Dartford boasts excellent transport links, making it a favoured location for commuters. The town seamlessly merges its rich history, evident in its architecture and landmarks, with modern amenities and developments.
Residents enjoy a vibrant community life with a plethora of recreational activities, shopping centres, and cultural events at their disposal. The presence of green spaces like Central Park provides a refreshing escape from the urban hustle, while the bustling high street and shopping centres cater to all retail and dining needs.
Furthermore, the town's educational institutions, healthcare facilities, and community events ensure a high quality of life for its inhabitants. Living in Dartford means enjoying the best of both worlds – the tranquillity of suburban life with the vibrancy of a modern town.
Move to Dartford with KKRemoval!
Considering a move to Dartford? Let KKRemoval make your transition smooth and hassle-free. As a leading London-based moving and removal company, KKRemoval understands the intricacies of relocating within the bustling capital and its surrounding areas. With our team of experienced professionals, state-of-the-art equipment, and a commitment to customer satisfaction, we ensure that your move to Dartford is executed with precision and care.
Whether you're moving a few items or an entire household, we tailor our services to meet your unique needs. Dartford's charm awaits you, and with KKRemoval by your side, you can embark on this new chapter of your life with confidence and ease. Choose KKRemoval for a seamless moving experience to Dartford!