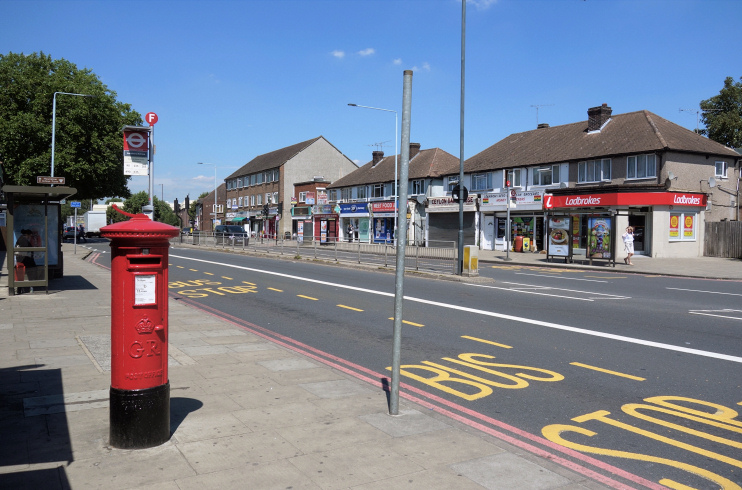 Situated just 13 miles from central London, Feltham is a family-friendly suburb in the London Borough of Hounslow that beautifully marries urban living with a touch of countryside charm. Known for its variety of affordable properties, well-regarded schools, and excellent green spaces, it's an appealing area for families and commuters alike.
The heart of Feltham is abuzz with local amenities, including a shopping centre and an assortment of eateries. Despite its relaxed residential atmosphere, Feltham offers convenient transport links to central London, including a Night Tube service. Feltham enjoys relatively low criminal damage rates for London, assuring residents of their safety.
Additionally, the ease of commute with good road links and a railway station providing access to London Waterloo adds to the charm of living here. In short, Feltham is a balanced blend of tranquillity and urban convenience, making it an attractive choice for anyone looking to experience a quieter side of London life.
Feltham Travel
Feltham offers an array of travel options that provide a seamless connection to the rest of London. The nearby Hatton Cross tube station on the Heathrow branch of the Piccadilly line is just a short 1.5-mile journey from the town centre, offering easy access to both Central London and Heathrow. Several bus routes, including the 90, 117, 235, 285, 490, H25, and H26, operate through Feltham, ensuring frequent services across town.
Feltham's railway station provides a direct link to Waterloo and Reading, with branch line services extending to Windsor and Weybridge. Furthermore, the town is well-serviced by London Buses that connect to destinations such as Kingston upon Thames, Richmond, Brentford, and more.
Long-distance express services also operate from various locations in Heathrow to destinations like Slough, Reading, and Croydon, covered under the London Buses pricing and operational scheme. The Moovit App provides real-time schedules, routes, and timetables, assisting residents and visitors to find the best transit options. Closest stops to Feltham include Browells Lane and High Street, making travel within and beyond Feltham hassle-free and convenient.
Feltham on a Map
Situated in West London, Feltham is strategically located approximately 13.5 miles west-southwest of Central London at Charing Cross, placing it within a convenient commuting distance to the city's heart. Just a mere 2.5 miles away from the center of Heathrow Airport, Feltham provides an ideal base for airport professionals and frequent travelers alike.
Feltham comprises several suburbs, namely North Feltham, Lower Feltham, and Hatton. Felthamhill, while located just within Surrey's boundaries and officially part of Sunbury, is also often associated with Feltham.
The town is nestled amidst a cluster of neighbouring settlements, including Hounslow, Ashford, East Bedfont (including Hatton), Sunbury Common, Cranford, and Hanworth. These locations offer a unique blend of urban amenities and rural charm, enhancing Feltham's appeal as a well-connected, suburban town within the sprawling metropolis of London.
Who Lives in Feltham?
Feltham is a dynamic community of around 70,500 residents, teeming with cultural richness. It's particularly notable for its substantial Indian community, which represents 55% of the local population, adding to the area's vibrant multicultural tapestry.
When it comes to safety, the town holds a medium rating, with the annual crime rates sitting at 110.04 incidents per thousand people. This figure, earning Feltham a 4 out of 10 on the safety scale, indicates the ongoing attention required towards maintaining security. However, the cohesive local community and dedicated law enforcement efforts continue to work in tandem to ensure a peaceful and secure environment. Thus, with its cultural diversity and community-focused residents, Feltham offers a unique residential experience.
Renting and Housing in Feltham
The property landscape in Feltham offers a diversity of options suitable for various budgets and lifestyle preferences. Over the last year, the average property price in Feltham was £427,858, a 2% increase from the previous year and a significant 17% rise from the 2020 peak of £366,325. This increase demonstrates the area's growing desirability and market buoyancy.
Semi-detached properties, the most popular housing type sold last year, fetched an average price of £513,689. This was closely followed by terraced properties, which sold for an average of £439,720. Flats, offering an economical choice, averaged at £256,826. Whether you're a first-time buyer, a growing family needing more space, or someone looking for investment opportunities, Feltham's real estate market presents a promising prospect for everyone.
Feltham Schools
Feltham Hill Infant & Nursery School, Bedfont Rd, Feltham TW13 4LZ
Cardinal Road Infant and Nursery School, Feltham TW13 5AL
St Lawrence Catholic Primary School, High St, Feltham TW13 4FF
St Michael Steiner School, Park Rd, Hanworth Park, Feltham, Hanworth TW13 6PN
Victoria Junior School, Victoria Rd, Feltham TW13 4AQ
Things to do and Local Amenities in Feltham
Bedfont Lakes Country Park
Spanning over 72.5 hectares, Bedfont Lakes Country Park is a designated Local Nature Reserve and a Site of Metropolitan Importance for Nature Conservation. It's a haven for nature enthusiasts, boasting 350 species of plants, beautiful views of lakes, wetlands, wildflower meadows, and woodland. The park offers open spaces, two parks, a jogging path, and a designated area for dogs. It's a family-friendly spot, complete with a playground for kids. The park's serene environment promises to rejuvenate visitors.
Clockhouse Ln, Feltham TW14 8QA, United Kingdom
Kempton Steam Museum
Home to two of the world's largest triple expansion steam engines, each towering at 62 ft, Kempton Steam Museum tells the tale of London's industrial heritage and the city's water supply until 1980. Visitors can learn about the Kempton Park site's vital role and enjoy working examples of traditional steam engine development transitioning to turbine technology, a crucial part of Britain's industrial past and present.
Kempton Park Pumping Station TW13 6XH, United Kingdom
Hounslow Urban Farm
As one of London's largest community farms, Hounslow Urban Farm offers an educational encounter with a variety of farm animals including pigs, goats, cows, rabbits, ducks, geese, alpacas, and more. There are daily activities suitable for all ages, including petting sessions and informative talks. It provides an interactive experience for families, allowing close interactions with animals, including the opportunity to handle reptiles and observe owls. The farm also hosts birthday parties.
Faggs Rd, Feltham TW14 0LZ, United Kingdom
Hampton & Kempton Waterworks Railway
Known as the 'secret railway', Hampton & Kempton Waterworks Railway is the only operational heritage steam narrow-gauge railway 'loop' within the M25, with a rich history dating back to the early 1900s. The railway loop offers an engaging journey through South West London's urban countryside. Facilities include ample parking, countryside picnic tables, mobile catering, and a play train for kids, promising a fun-filled outing for everyone.
Snakey Ln, Feltham TW13 6XH, United Kingdom
What is Feltham Like to Live in?
Feltham is characterized by an abundance of open spaces, providing residents with an uncharacteristic sense of freedom in the context of Greater London. Nestled alongside the Crane River and former Hounslow Heath, the area encompasses several nature-oriented landmarks including Bedfont Lakes Country Park and London Air Park at Hanworth. These green spaces provide the perfect backdrop for leisurely walks, sports activities, or simply appreciating the tranquillity of nature.
The town's communal spaces include Feltham Assembly Hall, nestled within Feltham Park, and community rooms in the library, serving as hubs of local interaction. Notably, the area houses Springwest Academy and Rivers Academy West London, both boasting excellent sports facilities. Feltham's leisure infrastructure also extends to the Feltham Green park, Hanworth Air Park Leisure Centre and Library, and Leisure West, an entertainment complex housing a cinema, bowling alley, bingo club, and a variety of restaurants.
While Feltham might not be as well-known as other UK cities, it holds its charm as an emerging destination. Its combination of nature, leisure facilities, and community-oriented amenities lend it a unique character that leaves a lasting impression on visitors. Feltham, a blend of urban living and nature's tranquility, is a compelling choice for those considering a move within London. This hidden gem offers unique experiences that make it well worth your attention.
Move to Feltham with KKRemoval!
Ready to make the move to Feltham? Let KKRemoval simplify your relocation process! With our expert team and dedicated service, we understand the intricacies of the London areas and can make your transition to Feltham a breeze. We offer comprehensive services to handle your move, ensuring you can focus on settling into your new home in this dynamic and diverse neighbourhood. Trust us with your move to Feltham – where new adventures, a rich history, and a welcoming community await you.