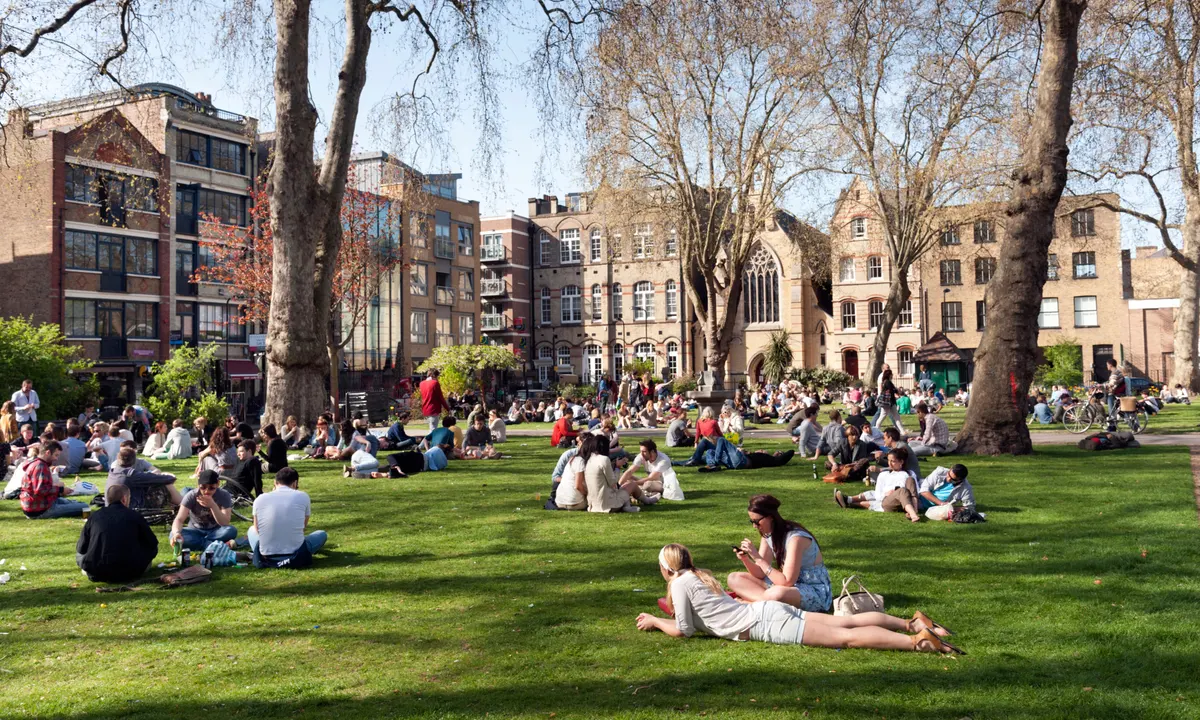 Nestled in the heart of the London Borough of Hackney, Hoxton is a vibrant and eclectic area that seamlessly blends the old with the new. Once a part of Shoreditch, Hoxton has emerged from its historical roots to become a hub of creativity and innovation, often considered to be part of the East End – the historic core of wider East London.
Hoxton is a place where the past and the present coexist harmoniously. Its rich history, which includes being a part of the civil parish and subsequent Metropolitan Borough of Shoreditch, is reflected in its architecture and the stories of its surrounding streets.
Hoxton Travel
Hoxton, located in the heart of London, is well-served by a variety of public transport options, making it easy to reach from other parts of the city and beyond. The area is well-connected by bus, train, and tube, ensuring that residents and visitors can move around with ease. Hoxton is located in Zones 1 and 2.
The nearest train station to Hoxton is Essex Road, which is just a 10-minute walk away. This station provides convenient connections to various parts of London and the surrounding areas. For those who prefer to travel by tube, Old Street station station is a 19-minute walk away and is served by the Northern Line.
Hoxton also has its own Overground station, which is an 18-minute walk from the heart of the area. The Overground provides a fast and efficient way to travel across London, connecting Hoxton with areas such as Hackney, Islington, and Camden.
For bus users, several routes serve Hoxton, providing easy access to the rest of the city. The nearest bus stops to Hoxton are New North Road (PC), which is a 2-minute walk away, and Baring Street (XE), which is a 3-minute walk away. The bus routes that stop near Hoxton include the 394, 76, 141, 21, and 135.
Hoxton on a Map
Hoxton is a vibrant district located in the London Borough of Hackney, in the eastern part of Central London. It is situated north of the City of London, the capital's financial district, and is bordered by Regent's Canal to the north, Wharf Road and City Road to the west, Old Street to the south, and Kingsland Road to the east.
Hoxton's location places it in the heart of East London, an area known for its rich history, diverse culture, and thriving arts scene. It is part of the historic East End, a term that traditionally refers to the areas of London that are east of the medieval walled City of London and north of the River Thames.
To the west of Hoxton lies Islington, a district known for its mix of residential, commercial, and entertainment areas. To the east, you'll find Hackney, a borough that has undergone significant regeneration in recent years and is now home to a variety of creative industries, independent shops, and multicultural eateries.
Hoxton's central location and excellent transport links make it a convenient base for exploring the wider city, while its distinct character and charm make it a fascinating area to explore in its own right.
Who Lives in Hoxton?
Hoxton, specifically the Hoxton East & Shoreditch ward, is a vibrant and diverse area in the London Borough of Hackney. As of the last census, it is home to approximately 14,000 residents. The area is known for its multiculturalism, with a significant portion of the population identifying as White British, followed by Black African and Black Caribbean communities. There is also a notable presence of Asian and other ethnic groups, contributing to the rich cultural tapestry of Hoxton.
The age distribution in Hoxton is quite varied, with a significant number of residents falling into the 25-34 age bracket, indicative of a young and dynamic population. This is likely due to the area's appeal to young professionals and creatives, attracted by the thriving arts scene and proximity to the city. However, the area also caters to a range of other demographics, including families and older adults.
In terms of safety, Hoxton has seen a decrease in crime rates over the years, thanks to concerted efforts by local authorities and community organizations. However, like any urban area, it is not without its challenges. The crime rate is slightly higher than the national average, with antisocial behavior and violence being the most reported incidents. Despite this, many residents feel safe living in Hoxton and appreciate the strong sense of community that prevails.
Given its diverse population and vibrant culture, it's safe to say that Hoxton is home to a mix of different groups, each contributing to the unique character of the area.
Renting and Housing in Hoxton
Hoxton, a vibrant and trendy area in East London, offers a diverse range of housing options that cater to various lifestyle needs and budgets. The area is known for its mix of modern apartments and traditional Victorian houses, providing a unique blend of the old and the new. According to Foxtons, the average price of a property in Hoxton is around £632,000 as of July 2023. The area has seen a 1.2% increase in property prices over the past year, indicating a steady real estate market.
On the other hand, Rightmove reports that the average sold price for properties in Hoxton over the last year was approximately £590,000, with flats being the most popular property type. The rental market is also active, with a variety of properties available for different price ranges. Whether you're looking to buy or rent, Hoxton's housing market offers a wealth of options for residents and investors alike.
Hoxton Schools
Happy Nest Nursery, London E2 8LP
Bright Buttons Nursery, Fanshaw St, London N1 6HX
Hoxton Garden Primary School, Ivy St, London N1 5JD
St Monica's Roman Catholic Primary School, 43 Hoxton St, London N1 6QN
Moreland Primary Schoo, Moreland St, London EC1V 8BB
Things to do and Local Amenities in Hoxton
Hoxton Street Market
Established in 1687, the Hoxton Market is the oldest street market in the Borough of Hackney. It's a bustling hub of activity where you can sample delicious street food, shop for unique crafts, and discover cutting-edge fashion designs. The market is open from Sunday to Monday between 10.30am and 4pm, and on Saturdays from 10am to 4pm, which also features a specialist fashion market. This vibrant marketplace is a testament to the enduring spirit of Hoxton and its community.
Hoxton St, London N1 6SH, United Kingdom
Colours Hoxton
This multi-layered arts bar is a vibrant hub of creativity in East London. Open from midday to late seven nights a week, Colours Hoxton serves as a lunchtime hangout, creative hub, live music venue, and a 300-capacity nightclub. It's a place where you can dance, create, eat, meet, and drink, all under one roof.
2-4 Hoxton Square, London N1 6NU, United Kingdom
Queen of Hoxton
This iconic venue has been a staple of Hoxton since 2001. The Queen of Hoxton is a pub, club, restaurant, and more. DJs spin the latest disco and house tracks on the weekend, while weekdays are reserved for fringe theatre and film nights. The huge rooftop bar is one of its best attractions, offering stunning views of the city.
1 Curtain Rd, London EC2A 3JX, United Kingdom
Hoxton Hall
This Grade II listed Victorian Music Hall hosts a range of productions, including live music, new writing, and immersive experiences. It's a place where London's newest creative talent goes to hone their skills, and a must-visit for any art and culture enthusiast.
130 Hoxton St, London N1 6SH, United Kingdom
The Museum of the Home
Formerly known as the Geffrye Museum, the Museum of the Home is set to reopen in the summer of 2020 with new galleries, learning spaces, a collections study room, and a café. This interior design space will continue to display and challenge the way we think about and live around the home.
136 Kingsland Rd, London E2 8EA, United Kingdom
What is Hoxton like to live in?
Living in Hoxton is like immersing yourself in a vibrant, eclectic, and creative hub that never sleeps. This East London neighbourhood is a melting pot of cultures, offering a unique blend of the traditional and the contemporary. It's a place where the old and the new coexist harmoniously, with historic Victorian houses standing proudly next to modern apartment blocks.
Hoxton is renowned for its thriving arts scene, with numerous galleries, studios, and street art that add a splash of colour to the area. The neighbourhood is also a foodie's paradise, boasting a wide array of eateries, from trendy cafes and hipster pubs to high-end restaurants and street food markets.
The nightlife in Hoxton is equally vibrant, with a plethora of bars, clubs, and music venues that cater to all tastes. Despite its bustling atmosphere, Hoxton also offers pockets of tranquillity with its green spaces and parks, providing residents with a much-needed respite from the urban hustle. In essence, living in Hoxton offers a dynamic, culturally rich, and exciting urban experience.
Move to Hoxton with KKRemoval
If you're considering making the vibrant and eclectic neighbourhood of Hoxton your new home, let KKRemoval make your move a smooth and stress-free experience. As a leading clearance and moving company in London, KKRemoval has the expertise and resources to handle all aspects of your move, from packing and transportation to unpacking at your new Hoxton home.
Our team of professional movers understands the unique challenges of moving in London and is committed to providing a service that is efficient, reliable, and tailored to your specific needs. Whether you're moving from another part of London or relocating from further afield, KKRemoval is here to ensure that your move to Hoxton is a seamless transition. With KKRemoval, you can start your new chapter in Hoxton with confidence and peace of mind.