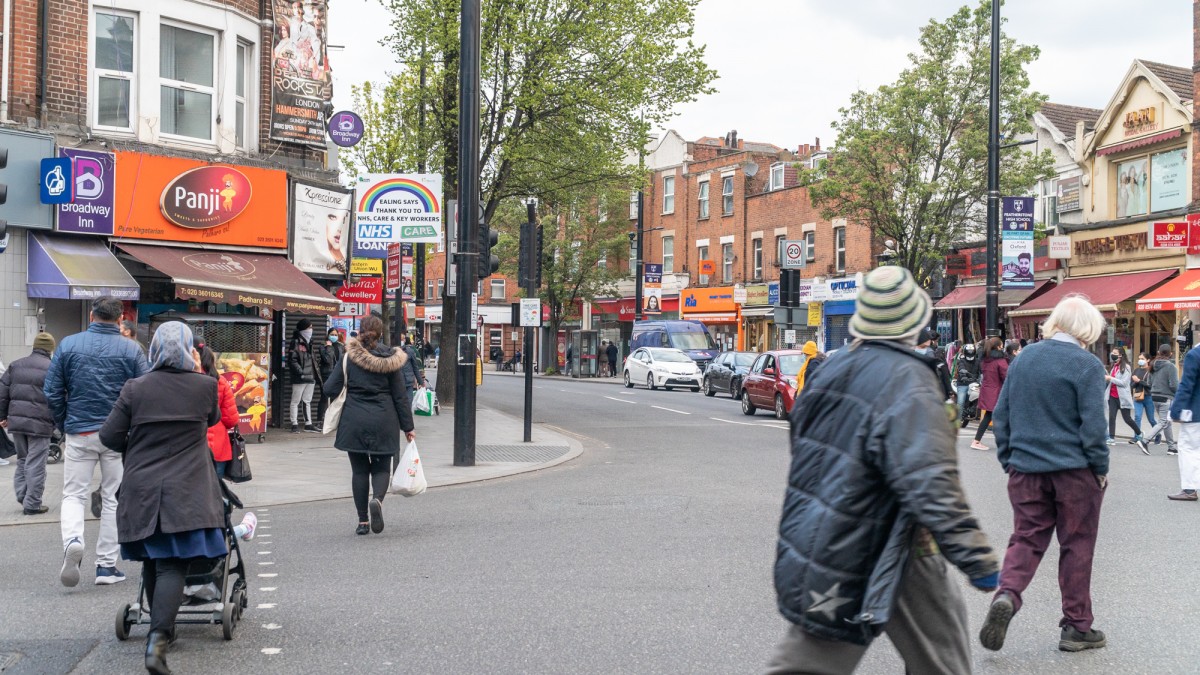 Southall, often referred to as "Little India", is a vibrant and diverse suburb located in the London Borough of Ealing. This West London gem is renowned for its rich cultural tapestry, offering residents and visitors a unique blend of British and South Asian experiences. As you walk through its bustling streets, the air is filled with the aromatic scents of Indian spices, the sounds of Punjabi music, and the colourful sights of saree shops and traditional markets.
Historically, Southall has been a melting pot for various communities, but it's the significant South Asian influence that has given it its distinct identity. The area boasts the largest Asian shopping centre in the capital, making it a hub for those seeking authentic Indian goods, from food and spices to textiles and jewellery. But Southall is not just about shopping; it's a community that celebrates its heritage with pride. The annual Vaisakhi parade, which marks the Sikh New Year, is a testament to this, drawing crowds from all over London and beyond.
Yet, Southall is also a place of change and evolution. Recent developments and investments have seen a surge in modern apartments and infrastructure improvements, making it an attractive proposition for young professionals and families alike. Its proximity to Central London, combined with its unique cultural offerings, positions Southall as a desirable location for those looking to experience the best of both worlds. Whether you're drawn to its cultural richness, its community spirit, or its evolving urban landscape, Southall promises a living experience unlike any other in London.
Southall Travel
Navigating Southall is made easy thanks to its excellent transportation links. At the heart of its transport network is the Southall Railway Station, which offers direct services to London Paddington, making Central London just a short journey away. The area is located in Travelcard Zone 4.
Plans for the introduction of the Elizabeth Line (Crossrail) promise even quicker connections to the city and other parts of London in the near future. For those preferring road travel, Southall's location near the M4 motorway ensures swift access to London and the surrounding areas. The area is also well-served by buses, with numerous routes facilitating local and city-wide travel.
Key bus routes operating in Southall include the 105, 120, 195, 207, 427, 482, 607, E5, H32, and N207, ensuring residents and visitors have a multitude of options for their commuting and travel needs. Whether you're travelling by train, bus, or car, Southall's strategic location and robust transport links make it a well-connected and easily accessible London suburb.
Southall on a Map
Situated in the London Borough of Ealing, Southall occupies a prime location in West London. Bordered by Hanwell to the east, Hayes to the west, Greenford to the north, and Heston to the south, it's strategically positioned with excellent connectivity to other parts of the city.
Central London, with its iconic landmarks and business hubs, is approximately 10 miles to the east of Southall. This proximity makes it an ideal spot for those who wish to reside in a culturally rich suburb while still being within easy reach of the heart of the capital.
The Grand Union Canal gracefully meanders through Southall, adding to its scenic beauty and offering picturesque views. With major roads and railway lines connecting it to the broader London landscape, Southall's geographical location combines the tranquillity of suburban living with the convenience of city accessibility.
Who Lives in Southall?
Southall, a vibrant suburb in West London, boasts a population of 28,018 residents, as recorded in the 2011 census. Often dubbed "Little India", the majority of its inhabitants identify as Asian or Asian British. Significant communities of Black or Black British and White or White British also call Southall home. In particular, Southall Broadway ward stands out for its rich diversity, having one of the UK's lowest proportions of White British residents, at just 3.5%.
Religiously, the area is a mosaic of faiths. Sikhism is the predominant religion, followed closely by Islam, Christianity, and Hinduism. This blend of cultures and beliefs contributes to the area's unique character and vibrant atmosphere.
The international essence of Southall is palpable, with a notable portion of its residents having been born outside the UK. This global influence, combined with its rich heritage, makes Southall a dynamic community that celebrates both its diversity and shared history, positioning it as a distinctive and integral part of London.
In terms of safety, Southall has average crime statistics, comparable to many other London suburbs. While there are occasional incidents, they are not out of the ordinary for a bustling urban area. The local community and authorities work collaboratively to maintain a sense of security and ensure Southall remains a pleasant place to live and work.
Renting and Housing in Southall
Southall, a vibrant area in West London, offers a diverse range of housing options that cater to various preferences and budgets. Over the past year, the housing market in Southall has seen a dynamic shift in prices and demand. The predominant type of property sold in Southall during this period was terraced houses, which fetched an average price of £469,675. These terraced homes, often characterized by their classic British architecture, are a testament to Southall's rich history and cultural heritage.
Flats, another popular choice among residents, especially young professionals and smaller families, were sold for an average price of £301,372. These flats often come with modern amenities and are strategically located close to transport links and local attractions.
For those looking for more space and perhaps a garden, semi-detached properties were another sought-after option, selling for an average of £572,563. These homes often feature spacious interiors and are ideal for growing families.
In terms of price trends, Southall's housing market has shown resilience and growth. Over the last year, sold prices in Southall increased by 8% compared to the previous year and were 10% higher than the peak prices recorded in 2020, which stood at £407,314.
Southall Schools
TwinkleTotz Day Nursery, Green Dr, Southall UB1 3AY
The de Lacey Day Nursery School, 237A N Hyde Ln, Hounslow, Southall UB2 5TZ
Nursery on the Green, Thorncliffe Rd, Hounslow, Southall UB2 5RN
Beaconsfield Primary School, Beaconsfield Rd, Southall UB1 1DR
North Primary School, Meadow Rd, Southall UB1 2JE
Dormers Wells Junior, Dormer's Wells Ln, Southall UB1 3HX
St Anselm's Catholic Primary School, Church Ave, Southall UB2 4BH
Lady Margaret Primary School, Lady Margaret Rd, Southall UB1 2NH
Durdan's Park Primary School, King Georges Dr, Southall UB1 2PQ
Wolf Fields Primary School, 160 Norwood Rd, Southall UB2 4JS
Local Amenities and Things to do in Southall
Southall, a bustling enclave in West London, is a treasure trove of cultural experiences, offering a blend of traditions, flavours, and attractions. Its rich heritage, primarily influenced by Indian and Pakistani communities, has given rise to a myriad of unique amenities that cater to both Southall residents and visitors. Here's a deeper dive into some of the top attractions and activities in Southall:
Diwali in Southall
Diwali, the Festival of Lights, is more than just a religious event in Southall; it's a community celebration. Marking the victory of light over darkness, the streets of Southall transform into a spectacle of colours, lights, and festivities. Shops and homes are adorned with intricate decorations, and the air is filled with the aroma of traditional sweets. Visitors can immerse themselves in the vibrant atmosphere, enjoy special offers on silk and jewellery, experience an Indian Head massage, or get adorned with intricate henna designs.
Shopping in Southall
Southall Broadway on Uxbridge Road is a shopper's paradise. A kaleidoscope of stalls and shops offer a diverse range of products, from traditional Asian attire to contemporary European fashion. Southall Market, a staple of the community, is especially lively on Saturdays. Here, one can find fresh produce, unique trinkets, and handcrafted items, making it a perfect spot for both regular shopping and finding unique gifts.
Eating Out in Southall
The culinary landscape of Southall is vast and varied. The area boasts an impressive array of restaurants serving Punjabi, Sri Lankan, Pakistani, and South Indian dishes. Traditional bakeries offer mouth-watering snacks, while modern establishments like Creams provide a fusion of flavours, from Italian gelati to Belgian waffles, ensuring that every palate is catered to.
Gurdwara Sri Guru Singh Sabha Southall
The Sri Guru Singh Sabha Gurdwara, situated on Havelock Road, is an architectural marvel and a spiritual haven. As one of the largest Sikh Temples outside India, its grandeur is evident in its marble and granite structures, gilded dome, and intricate stained glass windows. Beyond its beauty, the Gurdwara is a hub for community activities, offering free meals and hosting religious events, making it a focal point of Sikh culture in Southall.
Guru Nanak Rd, Southall UB2 4NP, United Kingdom
Creams Café
Creams Café is a dessert lover's dream. Nestled in the heart of Southall, this café is renowned for its extensive menu of sweet treats. From velvety Italian gelati and crispy Belgian waffles to decadent milkshakes and sundaes, Creams Café promises a delightful experience for those looking to indulge their sweet tooth.
154 The Broadway, Southall UB1 1NN, United Kingdom
What is Southall Like to Live in?
Nestled in West London, Southall stands as a testament to multiculturalism and unity. With its streets echoing the melodies of diverse languages and its markets offering a kaleidoscope of colours and flavours, Southall is more than just a residential area; it's a sensory experience. The neighbourhood is a gastronomic paradise, boasting eateries that serve mouth-watering Indian and Pakistani dishes, making it a go-to destination for food enthusiasts.
The sense of community in Southall is palpable. Major festivals, be it Diwali, Vaisakhi, or Eid, are celebrated with fervour, drawing people from all walks of life into a collective embrace of culture and festivity. These events serve as a reminder of the area's rich heritage and the harmonious blend of traditions that its residents cherish.
Beyond its cultural allure, Southall offers serene parks and recreational areas, providing a green respite from the urban hustle. The Grand Union Canal meanders through the locale, offering residents scenic spots for leisurely strolls or invigorating jogs.
The neighbourhood is well-equipped with essential amenities, from reputable educational institutions to comprehensive healthcare facilities. As Southall continues to evolve, it sees a surge in infrastructural developments, promising an even brighter future for its inhabitants.
In a nutshell, Southall is a melting pot of cultures, a place where history and modernity converge, and where every corner has a story to tell. It's not just a place to live; it's a place to belong.
Move to Southall with KKRemoval!
Relocating to a new area can be a daunting task, filled with challenges and uncertainties. But with KKRemoval by your side, your move to Southall becomes a seamless and stress-free experience. As a leading London-based moving and removal company, KKRemoval understands the intricacies of urban relocations and is equipped to handle moves of any scale.
Whether you're moving your family home, relocating your business, or just need help with transporting a few items, KKRemoval offers tailored solutions to meet your specific needs. Our team of professionals is trained to handle your belongings with the utmost care, ensuring they reach your new Southall residence in pristine condition.
Southall, with its rich cultural tapestry and thriving community, awaits you. And as you embark on this new chapter of your life in this dynamic neighbourhood, let KKRemoval be your trusted partner in making the transition smooth and hassle-free. After all, a new beginning in Southall deserves a perfect start, and with KKRemoval, that's precisely what you'll get. Contact us today and let's make your move to Southall a memorable one!