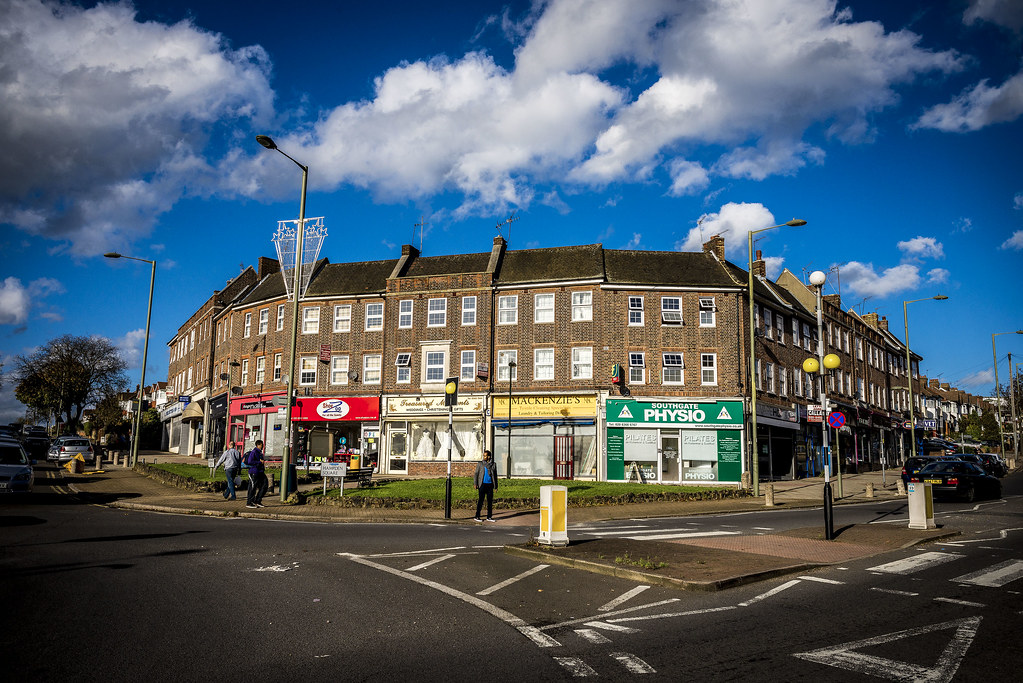 Are you considering a move to North London, seeking a diverse, inviting, and well-connected suburb to call home? Look no further than Southgate! With its excellent transport links, outstanding schools, green spaces, and thriving shopping district, living in Southgate has a lot to offer. Let's dive into what makes this North London gem so special.
Southgate Travel
When it comes to getting around, Southgate has you covered. With the Piccadilly Line running through the Southgate Underground Station, you'll have easy access to Central London in just 30-45 minutes. Additionally, local buses including the 121, 299, W6 and 382 connect you to nearby areas, while major roads like the M25 and M1 are easily accessible for those who prefer driving. Southgate is located in Travelcard Zone 4.
The car ownership rate in Southgate is slightly higher than in other areas of London, averaging just over one car per household. This is likely due to its proximity to the North Circular road, making it convenient for those who commute by car. However, with such great public transport options, you might find yourself leaving the car at home more often than not.
The Southgate town centre offers a wide array of shops, restaurants, and schools, all within walking distance of the tube station. Whether you're heading to Covent Garden for a night out or just running errands on the high street, Southgate's excellent transport links make it an ideal location for both work and leisure, similar to the convenience found in Welwyn Garden City.
Southgate on a Map
Located in the London Borough of Enfield, Southgate is a charming suburb of North London, not far from the well-known Finsbury Park. Its rich history dates back to the Roman era, when it served as the south entrance to Enfield Chase, a royal hunting ground. The 19th-century arrival of the railway system brought significant changes to the area, further establishing it as a thriving suburb.
Southgate is a true architectural melting pot, showcasing a mix of styles that give it a unique charm. Fine Georgian houses can be found sprinkled throughout the area, making it an attractive option for those with a penchant for period properties. The Southgate Underground Station itself is a modernist gem, featuring a circular design reminiscent of a spaceship, created by architect Charles Holden.
Despite its suburban setting, Southgate exudes a village-like feel, offering a welcome respite from the hustle and bustle of Central London. With plenty of green space to enjoy and a diverse mix of architectural styles, Southgate truly offers the best of both worlds: a tranquil oasis with easy access to the heart of the city.
Who Lives in Southgate?
Southgate is a vibrant and multicultural hub, with a population of 14,515 residents as of 2021. This diverse community is home to a mix of families, young professionals, and a significant representation of Cypriot and Jewish communities. This rich cultural blend contributes to the area's dynamic and inclusive atmosphere.
The area prides itself on its low crime rates, making it a safe and secure place for families and individuals alike. The family-friendly environment is evident in the community dynamics, with a strong focus on education and child-friendly amenities such as primary schools, sports facilities and parks. With its welcoming atmosphere, safety, and focus on family life, Southgate, with its growing population, stands out as an ideal place to live for people from all walks of life.
Renting and Housing in Southgate
The property market in Southgate is thriving, offering a range of housing options to suit every taste and budget. From period properties, including fine Georgian houses, to modern apartments and family homes near the town centre, there truly is something for everyone.
Properties in Southgate had an overall average price of £704,395 over the last year. The majority of sales in Southgate during the last year were semi-detached properties, selling for an average price of £894,497. Flats sold for an average of £394,879, with terraced properties fetching £728,193. Overall, sold prices in Southgate over the last year were 4% up on the previous year and 12% up on the 2020 peak of £627,014.
Rental prices in Southgate are competitive compared to other areas of London, making it an attractive option for those seeking affordable housing near the city centre. With a variety of property types to choose from, including 1930s mansions, mock Tudor semis, and smaller terrace houses, there's no shortage of options for renters and buyers alike.
The proximity to green spaces, good schools, and excellent transport links make Southgate an ideal location for families and professionals alike. With a wide selection of properties available, finding the perfect home in Southgate is easier than ever.
Southgate Schools
Merry Days Limited, 47 The Bourne, London N14 6RS
Monkey Puzzle Southgate Day Nursery & Preschool, 2-16, Burleigh Parade, Burleigh Gardens, London N14 5AD
Bright Horizons Southgate Day Nursery and Preschool, 311B Chase Rd, London N14 6JD
Osidge Primary School, Chase Side, London N14 5HD
Wolfson Hillel Primary School, 154 Chase Rd, London N14 4LG
Oaktree School, 315 Chase Side, London N14 4HN
West Grove Primary School, 218A Chase Rd, London N14 4LR
Southgate School, Sussex Way, Cockfosters, Barnet, Cockfosters EN4 0BL
Things to do and Local Amenities in Southgate
Trent Country Park
Trent Park is a sprawling green space in Southgate, offering a blend of natural beauty and recreational activities. The park's vast landscapes, woodlands, and lakes provide a serene escape for nature lovers. Visitors can explore walking trails, enjoy picnicking, or engage in outdoor sports. The park's historical significance and diverse flora and fauna make it a popular destination for families, outdoor enthusiasts, and history buffs.
331 Cockfosters Rd, Barnet EN4 0JY, United Kingdom
Grovelands Park
Grovelands Park is a Grade II listed public park in Southgate and Winchmore Hill, London. The park is home to a Grade I listed house, built in 1797–98, and the grounds were landscaped by the renowned Humphry Repton. The park offers various recreational opportunities, including a Parkrun, and is home to terrapins in the lake. Grovelands Park has been on English Heritage's "Heritage at risk register" since 2009, reflecting its historical significance and the need for ongoing preservation.
44 Queen Elizabeth's Dr, London N14 6RD, United Kingdom
Southgate Leisure Centre
Southgate Leisure Centre, following a £5.5 million refurbishment, stands as a modern hub for fitness and recreation in North London. The centre offers a vast gym with 95 exercise stations, three exercise studios, and a remarkable 33-meter long swimming pool with six wide lanes. The facility's clean and contemporary design, complemented by well-appointed changing areas, a café, and a health suite, makes it a popular destination for fitness enthusiasts of all ages.
Winchmore Hill Rd, London N14 6AD, United Kingdom
Chickenshed Theatre
Chickenshed Theatre is a community-driven theatre company in Southgate, committed to creating bold and beautiful work for everyone. With a mission to create wonder and change out of chaos and challenge, Chickenshed offers outstanding theatre performances, education courses, workshops, and outreach projects. The theatre's inclusive approach brings together people from all backgrounds, cultures, and abilities, reflecting a vision of a society where everyone can flourish.
290 Chase Side, London N14 4PE, United Kingdom
What is Southgate Like to Live in?
Southgate is a safe, family-friendly area, known for its low crime rates and excellent schools, such as Southgate School. The only place where caution is advised at night is the High Street between the underground station and Asda. Nevertheless, Southgate's overall safety makes it an ideal place for families and professionals alike.
In addition to its safety, Southgate offers an inviting and enjoyable lifestyle for homeowners, tenants, and visitors to explore and enjoy. With its thriving shopping district, green spaces, and convenient transport links, Southgate is an ideal location for both work and leisure.
Located just 30-45 minutes away from Central London by tube, Southgate is a welcoming suburb that strikes the perfect balance between city living and suburban tranquility. Whether you're raising a family or embarking on a new professional adventure, Southgate is a wonderful place to call home.
Move to Southgate with KKRemoval!
Considering a move to Southgate? Allow KKRemoval to make your transition smooth and hassle-free! As a premier moving and clearance company in London, KKRemoval is dedicated to providing top-notch services tailored to your unique needs. Southgate's blend of historical charm, recreational amenities, and community spirit makes it an appealing destination for individuals and families alike.
Whether you're drawn to the area's lush parks, vibrant arts scene, or modern fitness facilities, KKRemoval is here to ensure that your move to Southgate is handled with care, efficiency, and professionalism. Our experienced team is equipped with the knowledge and tools to manage every aspect of your move, from packing and transportation to clearance and organization.
Choose KKRemoval for your move to Southgate, and start enjoying everything this wonderful area has to offer. Contact us today to discover how we can support your new beginning in Southgate!