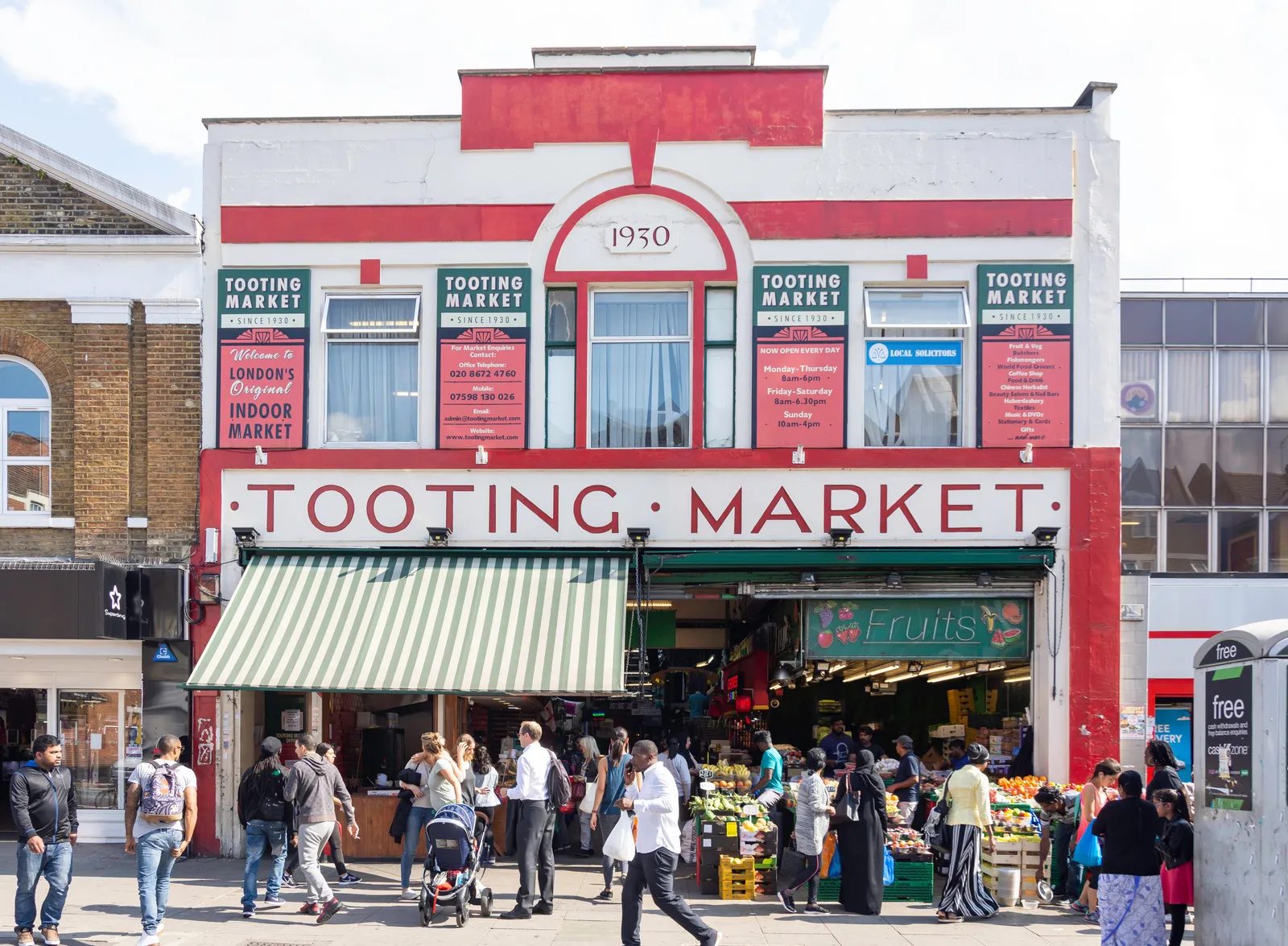 Tooting, a district nestled in South London, is a gem that beautifully blends the charm of a traditional British neighbourhood with the vibrancy of a multicultural hub. Part of the London Borough of Wandsworth and partly in the London Borough of Merton, Tooting is situated 5 miles south south-west of Charing Cross. This area is steeped in history, with its roots tracing back to pre-Saxon times. The name 'Tooting' itself is of Anglo-Saxon origin, with interpretations suggesting it could mean 'the people of Tota' or 'the people of the look-out post'.
Tooting is a district that has grown and evolved over the centuries. From its early days as a Saxon settlement to its development during the late Victorian period and further growth in the 20th century, Tooting has always been a place of change and progress. Today, it is a bustling and diverse district, known for its large British Asian community and a plethora of South Asian restaurants, earning it the nickname "land of the curry mile".
Tooting is not just a place to live; it's a community that welcomes everyone, from families to young professionals, students to retirees. It's a district that celebrates diversity and fosters a strong sense of community, making it a truly unique place to call home. So, whether you're drawn to its rich history, its vibrant culture, or its welcoming community, Tooting has something to offer everyone. Welcome to Tooting, a district that truly embodies the spirit of London.
Tooting Travel
Located in Zones 2 and 3, Tooting is well-served by public transport, making it an ideal location for those commuting into central London or around the city. Tooting Broadway and Tooting Bec tube station, both on the Northern Line, are the area's primary stations, providing direct access to the heart of London.
Tooting Broadway Station is a major hub, with numerous bus lines converging here, including the 44, 57, 77, 127, 131, 155, 219, 264, 270, 280, 355, and 493, as well as the G1. These buses offer extensive coverage, connecting Tooting to various parts of London.
For those preferring overground travel, Tooting railway station is just a 15-minute walk away from Tooting Broadway. It offers regular services to Blackfriars, City Thameslink, Farringdon, and St Pancras International, among other destinations.
Whether you're travelling by bus, tube, or train, Tooting's comprehensive transport links ensure that the rest of London is always within easy reach.
Tooting on a Map
Tooting is a district located in South London, forming part of the London Borough of Wandsworth and partially in the London Borough of Merton. It is situated approximately 5 miles (8 kilometres) south south-west of Charing Cross, placing it within comfortable reach of central London.
Geographically, Tooting is nestled west of Streatham, another vibrant district in South London. Its location makes it a perfect blend of city life and suburban tranquillity. The area is densely populated, reflecting its appeal to a wide range of residents, from young professionals to families.
Whether you're looking at a map of London or standing on the bustling streets of Tooting itself, you'll quickly realise that this district is at the heart of the action, offering easy access to the wider city while maintaining its unique local character.
Who lives in Tooting?
Tooting, a vibrant and diverse area in London, is home to a population of approximately 17,028 residents, according to the 2021 census. The area is known for its multiculturalism, with a significant number of residents born outside the UK. The largest ethnic groups are White (9,847 residents), followed by Asian (3,792 residents), and Black (1,694 residents).
The age distribution in Tooting is fairly balanced, with a significant proportion of residents falling within the 18-64 age group (12,254 residents). This suggests that Tooting is popular among working-age adults, including young professionals. There are also 2,905 residents aged 0-17 years, indicating a substantial number of families residing in the area.
In terms of safety, Tooting has a relatively low crime level, with an annual crime rate of 95.94 per thousand population. The most common types of crime reported in the area include anti-social behaviour, violence and sexual offences, and vehicle crime. However, it's important to note that crime rates can vary within different parts of Tooting and it's always advisable to check the latest local crime statistics when considering moving to a new area.
Renting and Hosuing in Tooting
Renting and housing in Tooting present a diverse range of options for residents and potential movers. The area is characterized by a mix of property types, from Victorian and Edwardian houses to modern apartments, catering to various lifestyle needs and budgets.
As of the latest data, the average price for properties in Tooting stands at £630,000, reflecting a 3% increase compared to the previous year. This price growth indicates a robust and dynamic property market in the area.
Flats are the most common type of property sold, with an average price of £400,000, while terraced houses average around £800,000. The rental market is also active, with a multitude of options available for different income levels. The housing scene in Tooting, therefore, offers a blend of historical charm and modern living, making it an attractive choice for many.
Tooting Schools
Precious Jewels Nursery, 18 Broadwater Rd, London SW17 0EF
Beechcroft Day Nursery, 83 Beechcroft Rd, London SW17 7BN
Growing Beans Tooting Nursery Preschool, 226 Mitcham Rd, London SW17 9NN
Bright Horizons Tooting Looking Glass Day Nursery and Preschool, 75 Macmillan Wy., Tooting Bec, London SW17 6AT
Fircroft Primary School, Fircroft Rd, Tooting Bec, London SW17 7PP
St Anselms Primary School, 19 Tooting Bec Rd, Tooting Bec, London SW17 8BS
Furzedown Primary School, Beclands Rd, London SW17 9TJ
Gatton Primary School, 13e Broadwater Rd, London SW17 0DS
Things to do and Local Amenities in Tooting
Tooting Tram & Social
This is the epicenter of Tooting's nightlife, offering a variety of entertainment options. From open mic nights featuring live music to stand-up comedy evenings, there's always something happening here. The venue also hosts genre-specific music nights, such as their Latin evening held on the third Friday of every month. But it's not just about the events; Tooting Tram and Social is also a great place to enjoy a drink and dance to DJ sets that carry on into the early hours.
46-48 Mitcham Rd, London SW17 9NA, United Kingdom
Tooting Market
This hidden food paradise is a must-visit for food lovers. With a diverse range of cuisines from Greece to Guyana, there's something to satisfy every palate. Among the many gems in the market is Unwined, a buzzing wine bar that offers well-sourced wines by the glass or bottle. They also host regular wine tasting events and serve delightful charcuterie boards that are as noteworthy as any other dish in the market.
21-23 Tooting High St, London SW17 0SN, United Kingdom
Tooting Bec
This area, with a history dating back to Norman Britain, is now a bustling intersection boasting a variety of shops and excellent local restaurants. It also leads to the expansive Tooting Common, a beautiful green space that offers a breath of fresh air in the city.
The Granada
This lavishly decorated former cinema is now home to Buzz Bingo, offering a fun and unique way to experience this architectural gem. The Granada is considered one of the most lavishly decorated cinemas in the UK, and while it no longer functions as a cinema, you can still appreciate its grandeur while enjoying a game of bingo.
50 Mitcham Rd, London SW17 9NA, United Kingdom
Graveney Gin
This gin bar and bottleshop in the heart of Tooting Market is the brainchild of Victoria Christie, a self-professed gin lover. Graveney Gin offers a range of refined gins that have gained popularity over time. They also host gin tasting masterclasses every Thursday evening for those interested in learning more about the spirit.
Unit 22a, Tooting Market, 21-23 Tooting High Street, London SW17 0SN, United Kingdom
Tooting Bec Lido
On hot summer days, there's nothing quite like a dip in a lido, and Tooting Bec Lido is a top pick. As one of the oldest open-air pools in the UK and the largest, it offers plenty of space for a refreshing swim. It even has a bit of movie history, having appeared in a scene in the film "Snatch" featuring Brad Pitt.
Tooting Bec Rd, London SW16 1RU, United Kingdom
Vijaya Krishna
This restaurant is a local favorite, serving authentic food from the Southern-Indian region of Kerala. The dishes are prepared with care and devotion to the true flavors of the subcontinent, making a meal here a bit of a journey in itself. Plus, the prices are more than reasonable, making it a great choice for a delicious and affordable meal.
114 Mitcham Rd, London SW17 9NG, United Kingdom
What is Tooting like to live in?
Living in Tooting offers a unique blend of community spirit, cultural diversity, and urban convenience. Recently voted as one of the top 10 neighbourhoods in the world to visit, Tooting is popular among young professionals and families alike. The area is known for its selection of schools, making it an ideal place for families with children.
Tooting is also a foodie's paradise, boasting a wide array of restaurants that reflect the area's multicultural character. From traditional British pubs to South Asian eateries, there's something to satisfy every palate. The nightlife in Tooting is vibrant, with a variety of pubs, bars, and clubs offering entertainment into the early hours.
For those who enjoy outdoor activities, the vast green space of Tooting Common provides a peaceful retreat from the hustle and bustle of city life. Whether you're a jogger, a dog walker, or simply someone who enjoys a leisurely stroll, the Common is a much-loved feature of life in Tooting.
Despite its lively atmosphere, Tooting maintains a quieter vibe compared to its neighbouring areas, offering residents a sense of tranquillity amidst the urban buzz. With its excellent transport links, diverse community, and wealth of amenities, Tooting is not just a place to live, but a place to truly call home.
Move to Tooting with KKRemoval!
If you're considering making the vibrant and diverse neighbourhood of Tooting your new home, let KKRemoval help you make the transition as smooth as possible. As a leading clearance and moving company in London, we understand the complexities and challenges of moving. Our team of professionals is committed to providing a seamless and stress-free moving experience.
Whether you're moving from another part of London, from elsewhere in the UK, or even from abroad, we have the expertise and resources to handle every aspect of your move. From packing your belongings with utmost care to transporting them safely to your new Tooting home, we've got you covered.
At KKRemoval, we believe that every move is unique, and we tailor our services to meet your specific needs and preferences. So why wait? Contact us today and let us help you start your exciting new chapter in Tooting!