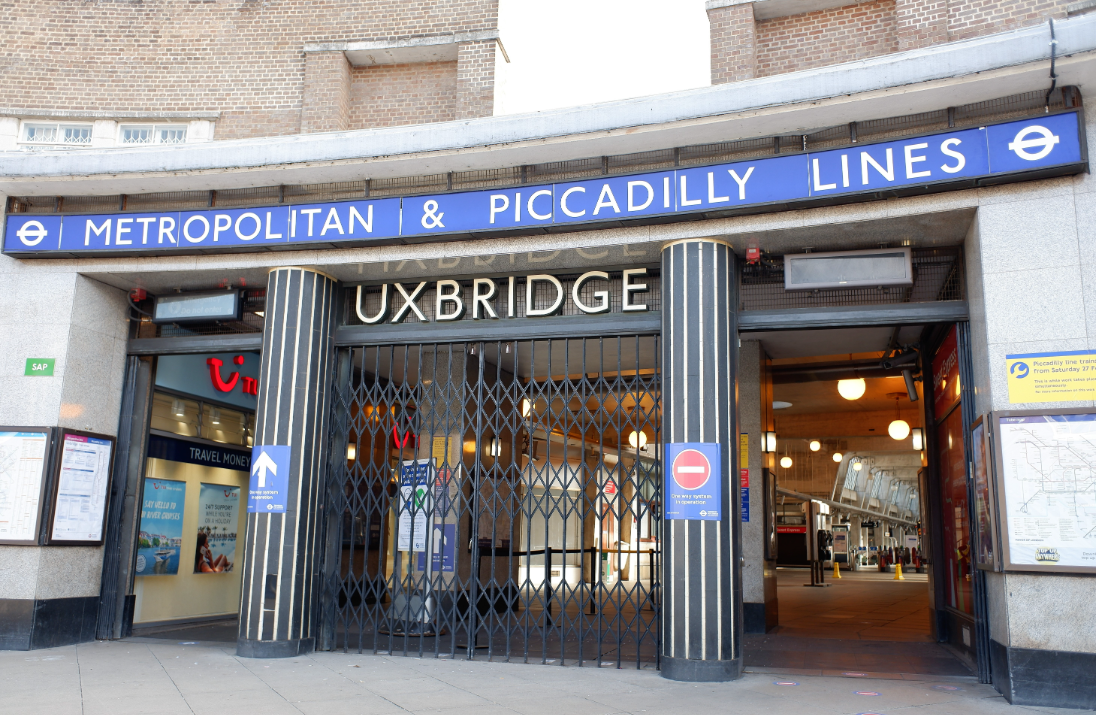 Nestled in the western outskirts of London, Uxbridge stands as a testament to the seamless fusion of historical charm and modern vibrancy. This commercial centre, rich in wartime history, notably from the era of Sir Winston Churchill, has evolved into a bustling metropolitan centre, replete with contemporary amenities and developments. The transformation of the former RAF Uxbridge into a residential haven, complete with new homes, schools, and a museum, epitomises the town's adaptability and reverence for its past.
Strategically located near major motorways and serving as the terminus for the Piccadilly and Metropolitan tube lines, Uxbridge offers unparalleled connectivity. Its proximity to the serene Grand Union Canal adds a touch of scenic beauty to its urban landscape. As one of London's designated Metropolitan Centres, it proudly ranks alongside areas like Stratford and Croydon.
Education remains a cornerstone of Uxbridge's identity, with institutions like Brunel University anchoring its academic prominence. Architecturally, the town is a mosaic of structures, from historic pubs to modern civic centres, each narrating a unique chapter of Uxbridge's journey. With shopping havens like the Pavilions and Intu malls, and a plethora of recreational spots, Uxbridge promises a dynamic and enriching experience for all.
Uxbridge Travel
Uxbridge, situated in Zone 6 of London's transport network, boasts excellent connectivity, making it a convenient location for both residents and visitors. The town is primarily served by the Uxbridge Tube Station, which is the terminus for both the Piccadilly and Metropolitan lines. This ensures direct access to Central London and other key areas across the city.
For those who prefer road transport, Uxbridge offers a plethora of bus routes catering to various destinations. Some of the prominent bus routes operating in the area include U1, U3, U4, U5, U7, U9, U10, 3, 222, 427, 331, 583, N207, and A10, among others. These buses connect Uxbridge to places like West Drayton, Heathrow Central, Hayes, Slough, Hounslow, High Wycombe, Ruislip, and many more.
Additionally, the town's bus stations are strategically located, ensuring easy accessibility. Key bus stations include Vine Street, Crown Walk, Uxbridge High Street, and Uxbridge Station, all within a short walking distance from the town centre. Whether you're commuting for work, leisure, or education, Uxbridge's transport infrastructure promises efficiency and convenience.
Uxbridge on a Map
Uxbridge is a vibrant town located in the western outskirts of London. As the administrative headquarters of the London Borough of Hillingdon, it holds a significant position on the map of Greater London. Geographically, Uxbridge is situated approximately 15.4 miles (24.8 km) west-northwest of Charing Cross, which is often considered the central point of London. This places Uxbridge in a strategic location, offering a blend of suburban tranquillity while still being within reach of the bustling heart of the capital.
For those familiar with London's iconic landmarks, Uxbridge is roughly 20 miles away from London Bridge. This distance can be easily covered via the city's efficient transport network, especially with the Uxbridge tube station's connectivity through the Metropolitan and Piccadilly Underground lines.
Its position on the map not only offers residents and visitors easy access to Central London but also to the scenic landscapes of the neighbouring counties, making Uxbridge a perfect blend of urban convenience and countryside charm.
Who Lives in Uxbridge?
Uxbridge South, nestled within the London Borough of Hillingdon, is a melting pot of cultures and backgrounds. With a population of 13,979 as of the 2011 census, this ward, encompassing areas like Cowley, Denham, New Denham, and Willowbank, boasts a youthful vibe, with an average age of 33 and a median age even younger at 28.
The majority of its residents were born in England, but Uxbridge South is also enriched by a significant international community, bringing in a blend of cultures from Asia, Europe, and other parts of the world. This diversity is mirrored in the languages spoken; while English remains predominant, a tapestry of other languages adds to the area's multicultural ambiance.
Religiously, the community is varied, with Christians forming the largest group, followed by those with no religious affiliation, Muslims, Hindus, and Sikhs, among others. In terms of safety, Uxbridge maintains a relatively low crime rate, with most incidents being minor in nature. The local authorities and community groups work collaboratively to ensure the safety and well-being of its residents.
The area's demographic profile, combined with its safety measures, paints a picture of a community that's both diverse and harmonious, making Uxbridge South a unique and vibrant place to live.
Renting and Housing in Uxbridge
Uxbridge, a vibrant town on the western edge of London, offers a mix of housing options that cater to various preferences and budgets. Over the past year, the overall average price of properties in Uxbridge stood at £486,394. Delving into the specifics, flats were the most commonly sold property type, fetching an average price of £281,595. Those looking for a bit more space might consider semi-detached homes, which were sold for an average price of £565,690. Terraced properties, on the other hand, had an average selling price of £471,178.
The housing market in Uxbridge has seen a positive trajectory, with sold prices witnessing a 2% increase from the previous year. Moreover, the current average is a notable 10% higher than the peak prices of 2020, which were at £440,433. This upward trend indicates the growing appeal of Uxbridge as a residential area, combining the tranquillity of suburban living with the conveniences of urban amenities. Whether you're a first-time buyer, looking to invest, or seeking a new family home, Uxbridge offers a range of properties to fit your needs.
Uxbridge Schools
Cheeky Chums Day Nurseries Uxbridge, Royal Ln, Uxbridge UB8 3QP
Stepping Stones Academy Childcare Ltd, 344 Long Ln, Uxbridge UB10 9PF
Hermitage Primary School, Belmont Rd, Uxbridge UB8 1RB
Ryefield Primary School, Ryefield Ave, Uxbridge UB10 9DE
Colham Manor Primary School, Violet Ave, Uxbridge UB8 3PT
St Bernadette Catholic Primary School, 160 Long Ln, Uxbridge UB10 0EH
Oak Wood School, Sutton Ct Rd, Uxbridge UB10 9HT
ACS International School Hillingdon, 108 Vine Ln, Uxbridge UB10 0BE
Local Amenities and Things to do in Uxbridge
Uxbridge, a vibrant town in West London, boasts a rich tapestry of history, culture, and recreational activities. Its diverse range of attractions ensures that both residents and visitors have a plethora of options to explore and enjoy. Here's a closer look at some of the top amenities and attractions that Uxbridge has to offer:
Battle of Britain Bunker
The Battle of Britain Bunker is not just a historical site but a testament to Uxbridge's significant role during the Second World War. This underground facility was the nerve center for the UK's air defense during the Battle of Britain.
Today, visitors can step back in time and explore the plotting room, which remains untouched since Winston Churchill's visit. The bunker offers an immersive experience, complete with guided tours, allowing one to understand the gravity of wartime operations and the heroes who worked behind the scenes.
Wren Ave, Uxbridge UB10 0GG, United Kingdom
Fassnidge Park
Fassnidge Park, a green gem in the heart of Uxbridge, offers a tranquil escape from the urban hustle. With its well-maintained ornamental gardens, shrub beds, and mature trees, it's a haven for nature lovers. Families can enjoy a day out, with facilities like a playground, tennis courts, and a skate park catering to all ages. The park's bandstand often hosts local events, making it a community hub where residents gather to celebrate and connect.
Middlesex, Rockingham Parade, Uxbridge UB8 2UW, United Kingdom
Ruislip Lido
Ruislip Lido is a picturesque reservoir surrounded by woodlands, offering a beach-like experience without leaving London. While swimming is not allowed, the sandy shores are perfect for sunbathing, picnics, and building sandcastles. The lido is also home to a mini railway that takes visitors on a scenic tour around the water body. With its serene environment and recreational facilities, Ruislip Lido is a favorite spot for families and nature enthusiasts alike.
HHQC+85, Ruislip HA4 7TX, United Kingdom
Grand Union Canal
The Grand Union Canal, a historic waterway stretching from London to Birmingham, meanders through Uxbridge, providing a green space and a scenic backdrop for various activities. Whether you're keen on a leisurely stroll, a brisk run, or a bike ride, the canal's towpath offers the perfect setting. Along the way, traditional narrowboats and picturesque bridges add to the charm. Several waterside pubs dot the route, offering refreshments and a chance to soak in the views.
The Crown & Treaty
The Crown & Treaty is steeped in history, having once been the backdrop for negotiations between Charles I and his parliamentary opponents. This historic pub, which was once a manor house, now welcomes guests with its warm ambiance and a menu filled with delectable dishes. The interiors exude old-world charm, with wooden beams and period features. It's not just a place to dine but an experience that takes you back to a significant chapter in Uxbridge's history.
90 Oxford Rd, Uxbridge UB8 1LU, United Kingdom
Hillingdon Sports and Leisure Centre
For those with an active lifestyle, the Hillingdon Sports and Leisure Centre is a hub of recreational activities. The center boasts an indoor pool, an outdoor lido, and an inflatable aqua park, ensuring water enthusiasts have plenty of options. Beyond swimming, the center offers a range of sports facilities, from badminton courts to fitness studios. Whether you're looking to swim a few laps, join a fitness class, or simply relax by the pool, this leisure center caters to all needs.
Gatting Way, Uxbridge UB8 1ES, United Kingdom
What is Uxbridge Like to Live in?
Uxbridge, with its harmonious blend of historical charm and modern amenities, offers a living experience that's both enriching and comfortable. Nestled in the western part of London, this town provides residents with the best of both worlds: the tranquillity of suburban life coupled with the conveniences of urban living.
Its rich tapestry of parks, waterways, and recreational facilities ensures that there's always something to do, catering to both nature lovers and sports enthusiasts. The town centre, bustling with shops, restaurants, and cafes, is a testament to Uxbridge's vibrant community spirit.
Furthermore, its excellent transport links make commuting to Central London and other parts of the city a breeze. The local schools, community events, and low crime rate further enhance its appeal, making Uxbridge a sought-after location for families, professionals, and retirees alike. In essence, living in Uxbridge means enjoying a balanced lifestyle, where history, nature, and modernity coexist seamlessly.
Move to Uxbridge with KKRemoval!
Relocating to Uxbridge? Let KKRemoval be your trusted partner in this exciting journey! As a premier London-based moving and removal company, KKRemoval understands the intricacies of city relocations. Our team of professionals is dedicated to ensuring a smooth and hassle-free move, allowing you to settle into Uxbridge with ease.
Whether it's packing your precious belongings with utmost care, transporting them safely, or helping you set up in your new home, we've got you covered. With our extensive experience and commitment to customer satisfaction, moving to Uxbridge becomes not just simple, but also a delightful experience. Choose KKRemoval and embark on a seamless transition to your new life in Uxbridge!