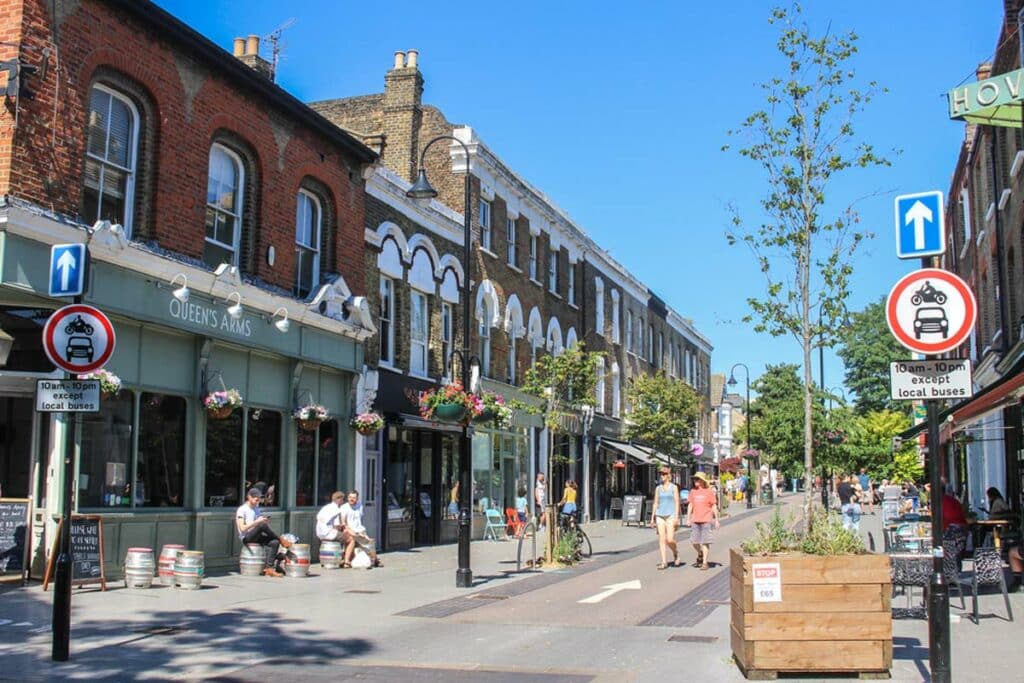 Located in North East London, Walthamstow boasts a diverse community, rich cultural heritage, and an array of exciting attractions. If you're considering living in Walthamstow, you'll find it to be a vibrant place to live, with excellent transport links and amenities. Let's dive into what makes this area so unique and inviting!
Walthamstow Travel
When it comes to transport links, Walthamstow is hard to beat. With its tube (including Victoria Line), overground, and railway stations, you can easily reach Central London from Walthamstow Central or London Liverpool Street in no time. Furthermore, numerous bus routes including the 34, 58, 69, 97, 123, 158, 212, 215, 230, 257, 275, 357, W11, W12, W15, W19, and N26, and close proximity to major roads and airports make traveling in and around the city a breeze.
For those who live in Walthamstow, getting around is a piece of cake. The Victoria Line takes you straight to the heart of London, while the Gospel Oak- Barking Overground Line connects you to other parts of the city effortlessly. With such great transport links, including major bus lines, it's no wonder Walthamstow is a popular choice for many who call London home.
Walthamstow on a Map
Situated in the London Borough of Waltham Forest, Walthamstow is an attractive destination for those looking to live in Walthamstow and enjoy the best of both worlds – the bustling city and the tranquility of South East England. With its rich history, such as the Ancient House on Hoe Street, Walthamstow offers a unique glimpse into the past while providing all the modern amenities one could ask for.
The area is well connected to the rest of London, with excellent transport links to the city centre, making it an ideal location for young professionals.
Who Lives in Walthamstow?
Walthamstow is home to a diverse and vibrant community, offering a unique and welcoming atmosphere for everyone who lives here. From long-time residents to newcomers, Walthamstow's thriving community makes it a great spot for young families and professionals alike. The area is known for its vibrant arts scene, green spaces, and excellent transport links, making it a popular choice for those looking to live in East London.
Walthamstow has been the home of some famous names, including William Morris, a renowned textile designer, poet, novelist, and socialist activist. The cricket legend Graham Gooch also hails from Walthamstow, as does the professional footballer Harry Kane. The singer and songwriter Fleur East is another notable name associated with Walthamstow.
The strong sense of local community and the many independent shops and restaurants contribute to Walthamstow's unique charm. It's no wonder that this once small village has grown into a bustling town within the London Borough of Waltham Forest.
Renting and Housing in Walthamstow
The housing market in Walthamstow offers a range of options for renters and buyers, catering to different needs and budgets. You can find Victorian and Edwardian period properties, Warner purpose-built flats, and some newer build flats all within easy reach of Walthamstow Central Station. Renting a two-bedroom flat can cost around £1,000 per month, while more luxurious options closer to the city center could set you back £3,000 per month.
If you're interested in finding a property in Walthamstow, the Agent Guide provides valuable information on property prices and estate agents in the area, as well as local events happening in Walthamstow. With excellent transport links, diverse housing options, and proximity to popular attractions like the William Morris Gallery, Walthamstow Wetlands, and Epping Forest, living in Walthamstow is an appealing choice for many.
Walthamstow Schools
Walthamstow Village Montessori Day Nursery, 6-7 West Ave, London E17 9QN
Willow Tree Nurser, 400a Hoe St, London E17 9AA
Wood St Nursery, St Gabriel's Church, Havant Rd, London E17 3JF
Coppermill Primary School, Edward Rd, London E17 6PB
St Mary's C of E Primary School, Brooke Rd, London E17 9HJ
Henry Maynard Primary School, Maynard Rd, London E17 9JE
Walthamstow Montessori School, Penryhn Hall, Penrhyn Ave, London E17 5DA
St Saviour's C of E Primary School, 33 Verulam Ave, London E17 8ER
Local Amenities and Things to do in Walthamstow
Walthamstow offers a plethora of attractions and amenities to keep residents and visitors entertained. From beautiful nature reserves like Walthamstow Wetlands and Epping Forest to the captivating William Morris Gallery, there's something for everyone.
In the following sections, we'll explore some of the must-visit spots in Walthamstow and what makes them unique.
Walthamstow Wetlands
The Walthamstow Wetlands, a stunning nature reserve, provides a tranquil getaway from the hustle and bustle of city life. Made up of Victorian reservoirs, the wetlands serve as a haven for wildlife and supply water to over 3 million people.
Visitors can immerse themselves in the beauty of the wetlands while walking along the pathways, taking in the sights of the surrounding area. The nature reserve is home to an array of wildlife, offering a fantastic opportunity for nature lovers to observe and appreciate the natural world in Walthamstow.
2 Forest Rd, London N17 9NH, United Kingdom
William Morris Gallery
Housed in a beautiful Georgian house within Lloyd Park, the William Morris Gallery showcases the works of the famous designer, artist, and writer. The gallery offers a variety of free exhibits related to art and design, ranging from fashion to painting.
Whether you're an art enthusiast or simply curious, the William Morris Gallery is a must-visit destination in Walthamstow. With its captivating exhibitions and workshops, the gallery provides an inspiring and educational experience for visitors of all ages.
Lloyd Park House, 531 Forest Rd, London E17 4PP, United Kingdom
Epping Forest
Epping Forest, an ancient woodland situated between London and rural Essex, is a perfect destination for outdoor enthusiasts and nature lovers. This lush, green space offers a variety of activities for those who wish to connect with nature and escape the city's hustle and bustle.
Whether you prefer a leisurely stroll or a challenging bike ride, Epping Forest provides countless opportunities for outdoor fun. It's easy access from both London and Essex makes it a popular choice for families and individuals seeking a refreshing taste of nature.
God's Own Junkyard
God's Own Junkyard is a one-of-a-kind attraction in Walthamstow, featuring an incredible collection of neon signs and lights. Created by the late neon artist Chris Bracey, this unique space serves as a museum, showroom, and art exhibition all in one.
Visitors can explore the kaleidoscope of colors and shapes at God's Own Junkyard, discovering the vibrant world of neon art. With its eye-catching displays and creative atmosphere, this attraction is a must-see for art lovers and anyone seeking a truly unique experience in Walthamstow.
Unit 12, Ravenswood Industrial Estate, Shernhall St, London E17 9HQ, United Kingdom
Walthamstow Market
As Europe's longest outdoor street market, Walthamstow Market is a bustling hub of activity and diverse shopping experiences. From fresh produce and clothing to household items, you'll find a wide variety of goods at this lively market.
In addition to its impressive size, Walthamstow Market is also home to a variety of food outlets offering delicious treats to satisfy any craving. The market truly captures the vibrant spirit of Walthamstow, making it a must-visit destination for those eager to experience the area's unique charm.
116 High St, London E17 7JX, United Kingdom
What is Walthamstow Like to Live in?
Living in Walthamstow offers a rich cultural experience and a strong sense of community. With excellent schools, such as Walthamstow School for Girls and Holy Family Catholic School, both boasting an outstanding rating, the area is perfect for families seeking top-notch education for their children.
Beyond its educational opportunities, Walthamstow provides a variety of leisure activities and amenities for residents to enjoy. Some of the highlights include exploring the beautiful Walthamstow Marshes, attending local events and festivals, visiting the William Morris Gallery, enjoying the vibrant food and drink scene, and shopping at the famous Walthamstow Market.
With its welcoming atmosphere and unique attractions, Walthamstow is truly a great place to call home.
Move to Walthamstow with KKRemoval!
If you're considering a move to Walthamstow, look no further than KKRemoval for all your relocation needs. As a professional removal company based in London, KKRemoval specializes in home and office moving and clearance, providing services for people living in all London areas.
From packing and loading to unloading and unpacking, KKRemoval's experienced team of experts will ensure a smooth and stress-free move to Walthamstow. They also offer storage solutions and insurance, providing peace of mind throughout the entire moving process.
Make your move to Walthamstow a seamless experience with the help of KKRemoval!