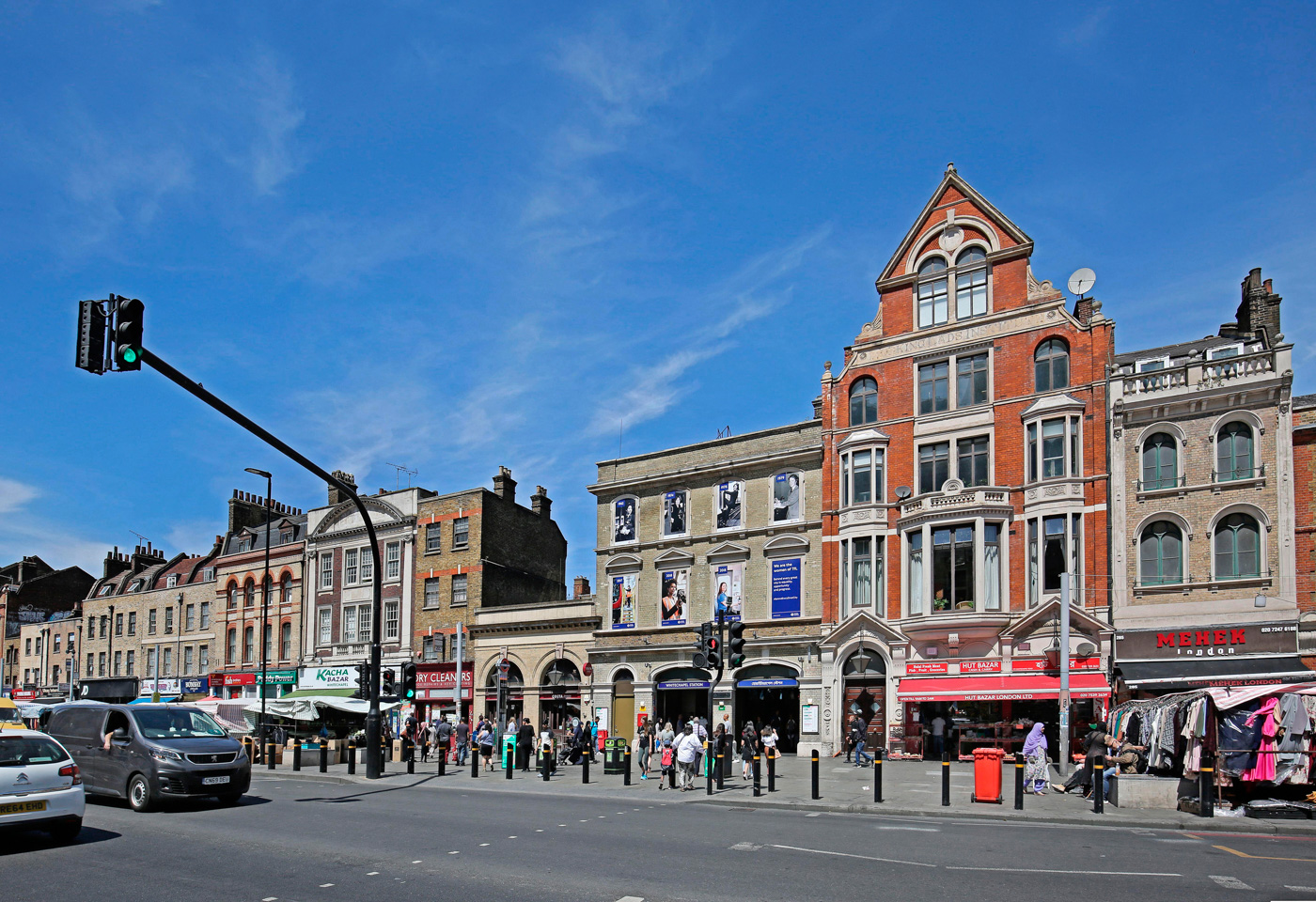 Whitechapel, nestled in East London, is a district with a rich and varied history. Once known for its Victorian-era slums and the notorious Jack the Ripper tales, today's Whitechapel is a vibrant blend of old and new. Its streets tell stories of its past, while modern apartments and amenities point to its future.
This area stands as a beacon of cultural diversity. Historically a hub for immigrant communities, particularly the Jewish and Bangladeshi groups, its multicultural essence is palpable. This is reflected in its eclectic mix of eateries, shops, and cultural spots. From aromatic curry houses to the esteemed Whitechapel Gallery, the neighbourhood offers a diverse range of experiences.
Connectivity is a significant advantage for Whitechapel. With its underground station and closeness to major hubs like Liverpool Street, it's a well-connected part of the city. The forthcoming Elizabeth Line will further boost its accessibility, making it even more appealing to city dwellers.
The ongoing regeneration of Whitechapel has ushered in a plethora of amenities. While the Whitechapel Gallery remains a cultural cornerstone, the area also boasts parks, educational hubs, and entertainment venues.
In essence, Whitechapel is a microcosm of London's evolution. Its historical depth combined with modern-day amenities makes it a unique and desirable spot in the heart of the capital. Whether for its history, culture, or connectivity, Whitechapel remains a compelling choice for many.
Whitechapel Travel
Whitechapel, located in the heart of East London, boasts a robust transportation network that ensures residents and visitors can easily navigate the bustling city, and its surrounding areas. The area is served by the Whitechapel Station, which is a significant hub for both the London Underground and the Overground networks. The station provides access to the District Line and the Hammersmith & City Line, facilitating quick commutes to central London and beyond. Additionally, the upcoming Elizabeth Line (Crossrail) will further enhance the connectivity of Whitechapel to other parts of London.
For those who prefer to travel by bus, the Whitechapel area is well-served with several bus routes. Key bus stations in the vicinity include Cavell Street, Cambridge Heath Road, and the Whitechapel Station / Royal London Hospital stop. Buses that operate in the area include the 25, 106, 205, 254, D3, N25, N205, and N253. These routes connect Whitechapel to various parts of London, from Ilford in the east to Paddington in the west.
Furthermore, the Aldgate East Tube station is just a 7-minute walk from Whitechapel, offering additional travel options. For those looking to travel beyond London, the nearby Shadwell DLR station, an 11-minute walk away, provides connections to the Docklands and Canary Wharf.
In summary, whether you're commuting for work, heading out for leisure, or just exploring the city, Whitechapel's comprehensive transportation system ensures that you're never too far from your destination.
Whitechapel on a Map
Whitechapel is a vibrant district situated in the East End of London, within the London Borough of Tower Hamlets. Historically known for its rich tapestry of cultures and its significant role in London's history, Whitechapel is geographically positioned to the east of the City of London and north of the River Thames. It's bordered by Aldgate to the west, Bethnal Green to the north, Stepney to the east, and Wapping to the south.
Its central location ensures that Whitechapel is easily accessible and well-connected to other parts of London. It's approximately 3.5 miles east of Charing Cross, the traditional centre of London. Furthermore, landmarks such as London Bridge and the Tower of London are just a short distance to the west, making Whitechapel a strategically located district for both residents and visitors.
The area's commercial road and main thoroughfare, Whitechapel Road, runs in an east-west direction and is a primary route connecting the City of London to the eastern suburbs. This road, along with the district's proximity to the financial hub of the city, has played a pivotal role in its development and significance over the years. In essence, Whitechapel's location on the map positions it as a bridge between the historic heart of London and the burgeoning communities of the East End.
Who Lives in Whitechapel?
Whitechapel, located in the Tower Hamlets borough, is a diverse and dynamic area. The community is characterized by a mix of residents, with the main ethnic group being "Other White" at 31%. When it comes to religious beliefs, 36% of the residents identify with "No Religion". A significant portion of the population, 77%, falls within the age band of 20 to 39, reflecting a young and vibrant demographic. The primary household type in Whitechapel is one-person households, accounting for 39%.
The area is considered relatively affluent, scoring 9 out of 10 in terms of wealth. However, in terms of crime, Whitechapel has average rates, with a score of 5 out of 10. This suggests that while the area is generally safe, residents and visitors should still exercise caution.
Whitechapel's demographic is further classified into two main groups. The "Educational advantage" group is characterized by student lifestyles, with many individuals originating from emerging economies like the Middle East and China. Overcrowding levels in this group are high.
The "Urban Elites" group comprises young professionals working in sectors like science, technology, finance, and insurance. Many students in this group rent rooms in centrally located communal establishments. A significant portion of residents in this group hail from pre-2001 EU countries, and there's a notable representation from Chinese, Arab, and other minority backgrounds.
Renting and Housing in Whitechapel
Whitechapel, a vibrant and historic area of East London, offers a diverse range of housing options that cater to various preferences and budgets. Over the past year, the average property price in Whitechapel stood at £693,334. Flats, which are the predominant property type in the area, were sold at an average price of £669,475. Those looking for a bit more space and character might be interested in the terraced properties, which fetched an average price of £889,593. For those seeking luxury and spaciousness, semi-detached properties were on the higher end, with an average selling price of £2,850,000.
It's worth noting that the housing prices in Whitechapel over the last year were quite stable, showing little deviation from the previous year. However, they were 9% lower than the peak prices observed in 2018, which stood at £760,341. This suggests that while the area remains sought-after, there might be opportunities for potential buyers or renters to find good deals.
The architectural styles in Whitechapel are a blend of the old and new. Historic Victorian terraces stand alongside modern apartment building complexes, offering residents a choice between classic charm and contemporary comfort. The area's proximity to the City of London and its rich cultural heritage make it an attractive location for both young professionals and families. Whether you're looking for a compact studio apartment or a spacious family home, Whitechapel's property market has something to offer.
Whitechapel Schools
Rainbow Angels Nurseries & Learning Centres, St Anne's Church Hall, 52 Underwood Rd, London E1 5AW
Wapping and Bigland Children and Family Centre, 15 Richard St, London E1 2JP
Winterton House Nursery, 16 Deancross St, London E1 2QA
St Paul's Nursery – Dock Street, Dock St, London E1 8JN
Harry Gosling Primary School, Fairclough St, London E1 1NT
Date Palm Primary School, 80-82 Greenfield Rd, London E1 1EJ
St Paul's Primary School, Wellclose Square, London E1 8HY
Al Mizan School, 46 Whitechapel Rd, London E1 1JX
Canon Barnett Primary School, Gunthorpe St, London E1 7RQ
London Enterprise Academy, Aneurin Bevan House, 81-91 Commercial Rd, London E1 1RD
London East Academy, 46 Whitechapel Rd, London E1 1JX
Local Amenities and Things to do in Whitechapel
Whitechapel, with its rich history and cultural diversity, offers a plethora of attractions and activities for both residents and visitors. From historic sites that tell tales of its past to modern establishments that showcase its vibrant present, Whitechapel is a treasure trove of experiences waiting to be discovered. Here are some of the top attractions and amenities that make this area of London truly unique:
The Whitechapel Gallery
A beacon of contemporary art since its inception in 1901, the Whitechapel Gallery has been at the forefront of the London art scene. Over the years, it has played host to groundbreaking exhibitions featuring works by iconic artists such as Pablo Picasso, Frida Kahlo, and Lucian Freud.
Beyond its exhibitions, the gallery is also a hub for public art education, regularly hosting workshops, lectures, and film screenings. Its architectural splendour, combined with its rich artistic heritage, makes it a must-visit for anyone keen on exploring London's public art gallery scene.
77-82 Whitechapel High Street, London E1 7QX, United Kingdom
The Royal London Hospital Museum
Housed in the atmospheric setting of a former church crypt, The Royal London Hospital Museum offers a captivating journey through the annals of medical history. The museum chronicles the evolution of the hospital and its role in pioneering medical advancements.
Notable exhibits include artefacts related to the legendary nurse Edith Cavell and the life of Joseph Merrick, famously known as the "Elephant Man". It's a place where history and medicine intertwine, offering insights into the medical practices of the past.
Whitechapel Rd, London E1 1FR, United Kingdom
Brick Lane
Brick Lane, often referred to as the "Curry Capital" of London, is a bustling street known for its vibrant array of shops, eateries, and street art. The lane is a testament to London's multicultural fabric, with its Indian and Bangladeshi restaurants offering a culinary delight. Every Sunday, the lane transforms into the Brick Lane Market, a haven for vintage enthusiasts, foodies, and art lovers. The murals and street art that adorn its walls further add to its bohemian charm.
The Whitechapel Bell Foundry
With a history dating back to 1570, The Whitechapel Bell Foundry stands as Britain's oldest manufacturing company. Over its illustrious history, it has crafted some of the world's most iconic bells, including the Liberty Bell and Big Ben. While bell production ceased in 2017, the foundry's legacy endures, and the site remains a testament to Whitechapel's industrial heritage.
34 Whitechapel Rd, London E1 1DY, United Kingdom
Altab Ali Park
A serene green space in the heart of Whitechapel, Altab Ali Park is named in honour of Altab Ali, a Bangladeshi garment worker who tragically lost his life in a hate crime. The park, with its beautifully landscaped gardens and poignant memorial arch, serves as a reminder of the community's resilience and unity. It's a place where locals come to relax, reflect, and remember.
Adler St, London E1 1FD, United Kingdom
What is Whitechapel Like to Live in?
Whitechapel, a district that effortlessly marries its rich historical tapestry with the vibrancy of modern London, offers a unique living experience. Its streets echo tales of its storied past, from the haunting legacy of Jack the Ripper to the bustling trade of its ancient markets.
Today, Whitechapel stands as a melting pot of cultures, with its diverse community adding to its eclectic charm. The area boasts a dynamic arts scene, with galleries, street art, and performance spaces bringing creativity to every corner. Its culinary landscape is equally diverse, offering everything from traditional British fare to flavours from around the world.
The excellent transport links make commuting a breeze, while its range of amenities ensures that residents have everything they need at their doorstep. Green spaces like the Altab Ali Park and the Nomadic Community Garden offer tranquil retreats in the heart of the urban hustle. The community spirit is palpable, with local events, markets, and festivals fostering a sense of belonging. Living in Whitechapel means embracing its past, celebrating its present, and looking forward to a future filled with promise and potential.
Move to Whitechapel with KKRemoval!
Considering a move to the vibrant district of Whitechapel? Let KKRemoval be your trusted partner in this exciting journey. As a leading London-based moving and removal company, KKRemoval understands the intricacies of relocating within the bustling metropolis. Our team of experienced professionals is dedicated to ensuring a seamless transition, whether you're moving from another part of London or making Whitechapel your new home from afar.
With our extensive knowledge of the area, we can navigate the historic streets of Whitechapel with ease, ensuring your belongings reach their destination safely and efficiently. Beyond just moving, we offer tailored solutions to meet your specific needs, from packing and storage to expert advice on settling into your new Whitechapel home. With KKRemoval by your side, you can embark on this new chapter with confidence, knowing that you're in capable hands. Make your move to Whitechapel a memorable one with KKRemoval!